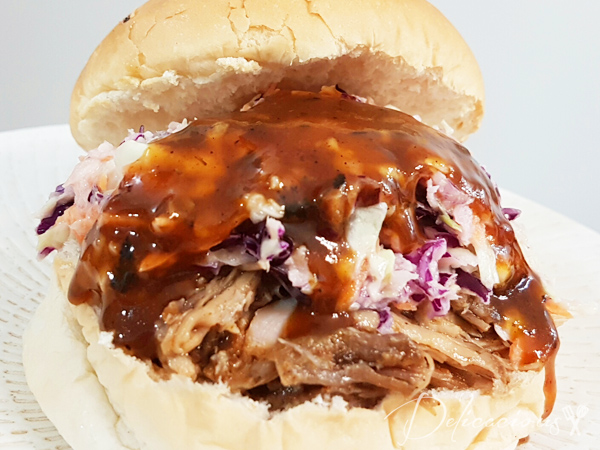 After a few crazy months of renovations and managing the house move, it's finally over and I can START COOKING! The biggest addition to the new kitchen is the Instant Pot. My friend, who blogs at Still Feeling Peckish, a low carb blog, raved about the pot on her facebook page and I was sold. I happened to be in the US, and so I crazily lugged one back to Singapore, thinking that I could use my existing transformer. Unfortunately, the transformer started smoking and we realised that we had rather "cleverly" used a 250W transformer on a 1000W pot. Thank goodness no one was harmed and the new house remained intact. Found someone selling a brand new 3000W transformer (yes, overkill I know) on Carousell for a good price, bought it and I CAN FINALLY USE MY POT!!!
The first thing I made after the water test was some garlic lemon chicken, but they were not blog worthy enough. The second thing I made, to feed my super hungry CG mates (11 adults who can eat like 20 adults) were these pulled pork burgers. And mind you, these are not your ordinary pulled pork burgers. The pork was cooked in Irish Ale (a dark beer would do as well). They are absolutely delish, and the best part, the pulled pork took under an hour and a half to prepare. Can you imagine? Melt in your mouth goodness in just an hour and a half? I love the instant pot!
If you are reading this post, all you want is probably the recipe, and so I'll stop raving about the burgers and just give you the recipe. Try it. You'd be amazed too.

Instant Pot Beer Braised Pulled Pork
Ingredients
1 tbsp salt (use more if your cajun rub doesn't include salt)
½ tsp ground black pepper
3 tbsp cajun seasoning (I use NOMU's)
1.8kg (4 lbs) pork shoulder butt (cut into 400g slabs)
5 cloves of garlic, smashed with skins on
1 cup of good ale or dark beer
½ cup ketchup
⅓ cup brown sugar
3 tbsp Worchestershire sauce
2 tbsp Dijon mustard (I didn't use it though)
Instructions
To make pulled pork
Combine salt, pepper and cajun seasoning
Rub it all over the pork pieces.
Wrap it up in cling wrap and allow it to sit in the fridge for 4 hours or overnight.
Set the Instant Pot (IP) to saute mode.
Brown each pork piece and set aside.
Click cancel, and select the manual mode on the IP and set the timer to 45 min.
Place the pork pieces back into the pot, and scatter the garlic around it.
Pour in the ale/beer.
When the timer is up, allow the pot to release pressure naturally for about 15 min.
Remove the pieces of pork carefully and set aside.
Set pot on saute mode. Add ketchup, brown sugar and Worchestershire sauce. Stir and allow it to reduce slightly.
Meanwhile, pull the pork with two forks. Add some of the reduced sauce to the pork and mix.
Thicken the remaining sauce in the pot by mixing two tbsp of cornstarch with some water, and adding the cornstarch mixture to the sauce. Let it boil and slowly thicken. When you reach your required consistency, turn off the pot and pour out the BBQ-beer sauce.
To-assemble
Toast some burger buns, pile on the pulled pork, drizzle the thickened sauce over and top the pork with some slaw. Tuck in!
Notes
Adapted from: http://www.foodnetwork.com/recipes/dave-lieberman/beer-braised-bbq-pork-butt-recipe.html