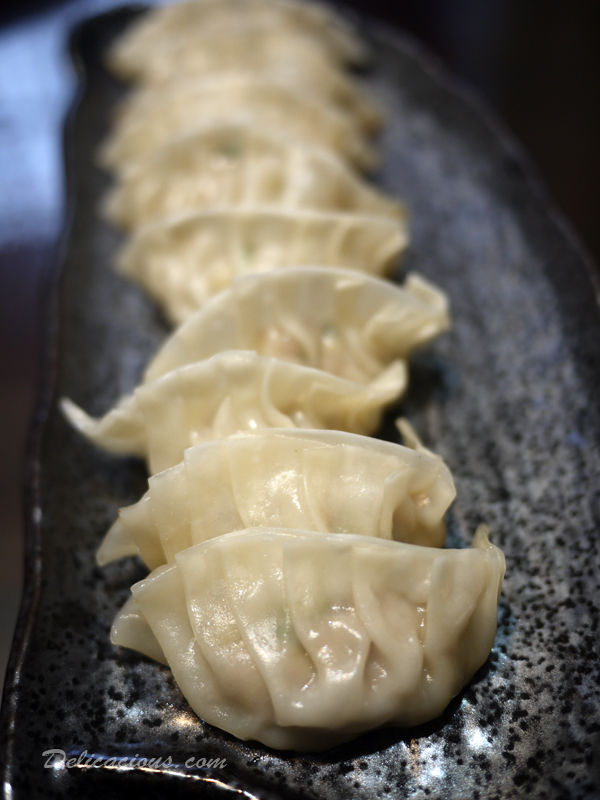 How many gyoza fans do we have here? Me! I'm definitely one. It is one of those items that I frequently order at ramen shops to accompany my ramen. There are typically two ways of cooking gyoza – pan fried then steamed or fully fried. I prefer the pan fried then steamed version as I feel the steaming process keeps the filling juicy. I also like my gyoza made with more filling. Sadly, most store bought ones don't quite make the cut – most ramen places that I frequent scrimp on the gyoza filling. SO…. I decided to make my own! Packed with more filling (oh so yummy), pan fried, then steamed.
This isn't the first time I've made gyoza (I think this may be the third time), but this is the first time I've decided to be kinder to myself. Yes you may have guessed correctly. I used store-bought gyoza skins this time. Previously I made my own dough and painstakingly rolled out each piece. It was an entire afternoon's project and I needed reinforcements just to get it done before dinner. This time, I bought frozen gyoza skins from this Japanese food shop J-Mart at Star Vista. I'm pretty pleased with the quality of the skins – thin and easily handled. Keeps my sanity intact for not having to roll out gyoza skins!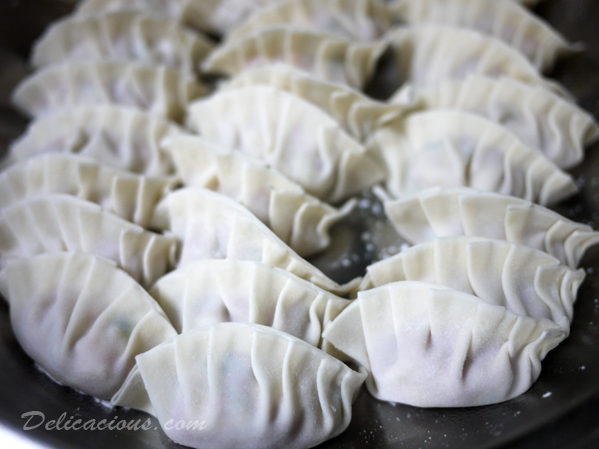 The time-consuming part of making gyoza is in wrapping the gyoza. Your first few may take a little longer but don't give up! You will soon get the hang of it. Nami from Just One Cookbook has a great guide to wrapping gyoza here. Refer to it and I'm sure you will have beautifully wrapped gyoza in no time!

Pork and Prawn Gyoza
Ingredients
2 leaves napa cabbage, chopped finely
½ tsp salt
150g uncooked prawns, deveined
150g minced pork
1 tsp grated ginger
1 tbsp mirin
½ tsp salt
½ tsp soy sauce
pinch of sugar
pinch of pepper
1 tsp cornflour
2 tbsp spring onions
1 tbsp sesame oil
1 packet of gyoza wrappers
2 tbsp vegetable oil
¼ cup hot water
soy sauce, vinegar and chilli oil for dipping
Instructions
In a large bowl, mix ½ tsp salt with chopped napa cabbage.
Set aside for 30 minutes.
Chop prawns roughly and mix well with the minced pork.
Add mirin, ginger, salt, soy sauce, sugar and pepper and mix well.
Add cornflour bit by bit till a firm paste is obtained.
Squeeze water out of the chopped cabbage.
Add cabbage, spring onions and sesame oil to the paste and mix well.
Add about a tsp of filling to the centre of each gyoza wrapper.
Put water at the edge of the gyoza wrapper and make pleats towards the centre to conceal the filling.
Set aside on a plate sprinkled with cornflour.
Repeat till filling is all used up.
Heat oil to a large flat-bottomed frying pan over medium heat.
Arrange gyoza in neat rows or in a circular pattern and fry till bottom is golden brown.
Add in hot water and cover the frying pan tightly with a lid.
Once water has evaporated, remove gyoza from pan.
Serve hot with a mixture of soy sauce, vinegar and chilli oil.
I share this post at some of this
link parties
!