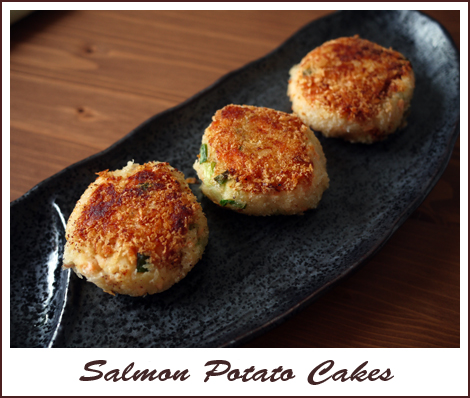 I didn't use to make salmon potato cakes. I like salmon oven-baked or pan-grilled, but my daughter changed that recently. You see, a couple months ago, my 2-year old daughter developed an adverse taste towards fish. Any kind of fish. So these fish cakes were my attempt to sneakily introduce fish into her meal with something that does not look too "fish-like". Besides, they are really tasty and the adults loved them too. Salmon and potato – what's not to like?
Verdict? She liked them. Success!! If you have a picky eater, try them. I make a larger batch and flash freeze them in a baking tray. Once frozen, I pack them in ziplock bags. Easy!
Salmon Potato Cakes

Print recipe
A tasty and flavourful salmon potato cake recipe.
Ingredients
300g Salmon fillet (bones removed)
1 teaspoon Olive oil
pinch sea salt
pinch ground black pepper
4 Russet potatoes
2 Eggs
1 tablespoon Dijon Mustard
3 stalks Scallions (thinly sliced)
3/4 cups Japanese breadcrumbs
1 tablespoon Butter
1 tablespoon Olive Oil
Optional
Note
Salmon potato cakes can be frozen before the pan-frying step. Make a larger batch of these and serve them up for a quick dinner another day! Recipe is adapted from here.
Directions
Step 1
Season salmon with salt and pepper and brush with olive oil. Grill in a pan or in an oven until they are golden brown. Flake salmon into smaller pieces.
Step 2
Boil and mash potatoes. Add salmon, dijon mustard, scallions, beaten eggs and peas and combine. Season with more salt and pepper.
Step 3
Shape into patties and coat evenly with Japanese breadcrumbs.
Step 4
Preheat a skillet over medium heat and add olive oil and butter. Pan-fry salmon potato cakes until they are golden brown on both sides.