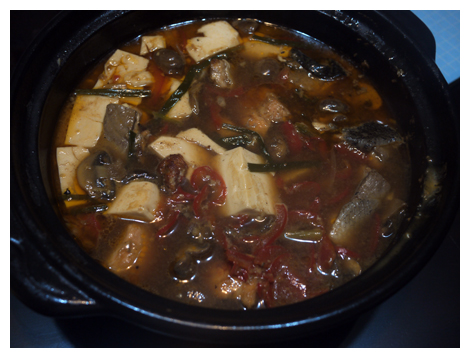 The flu bug is going around and both my husband and my toddler girl are down with flu. I had initially intended to cook salmon tofu balls but seeing that they were sick, I decided that something less "heaty" would be good.
I chanced upon a recipe on epicurious and did some modifications to get this yummylicious dish that even my rather fussy toddler liked it!
Salmon Tofu Miso Casserole

Print recipe
Delicious Salmon Tofu Miso Casserole, perfect for a cold evening's dinner.
Ingredients
450g Boneless salmon fillet (Cut into cubes)
1/4 teaspoon salt
2 tablespoons oil
150g Assorted japanese mushrooms (cleaned and dried)
2 cloves garlic (chopped finely)
1 Red capsicum (sliced)
1 Block chinese tofu (Cut into cubes)
2 1/2 tablespoons Miso paste ((I use a mix of red and white miso))
2 cups Chicken stock
1 tablespoon Mirin
3 stalks Spring onion (cut into sections)
Directions
Step 1
Marinate salmon pieces with salt for 10 - 15 minutes.
Step 2
Heat 1 tbsp of oil in a casserole. Brown salmon pieces in oil and set aside.
Step 3
Add remaining oil and stir fry garlic, red capsicum and mushrooms in the casserole.
Step 4
Add in the tofu to combine and finally the salmon.
Step 5
Add in miso paste and stir to mix with ingredients.
Step 6
Pour in the chicken stock and mirin and bring to a boil.
Step 7
Simmer for 20 minutes and add the spring onions, and continue to simmer for 5 - 10 minutes more.
Step 8
Serve hot with rice.