Blueberry muffins may seem simple to bake, but it is not easy to get a really tasty one. They sometimes end up too dense, too floury, or just…. not right. After trying and adapting a couple of recipes from books, I finally stumbled upon what I think, is the best blueberry muffin recipe I've come across to date. The muffins are slightly crumbly, just the right density, crisp top, buttery flavour and chock full of blueberries. Perfect for breakfast and tea.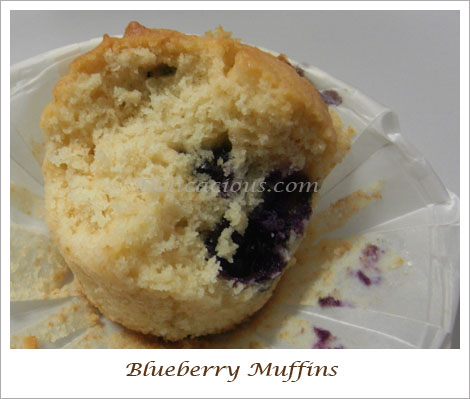 Almost Perfect Blueberry Muffins
Ingredients
10 ounces all purpose flour
1 tbsp baking powder
½ tsp salt
1 large egg
7 ounces sugar
2 ounces butter, melted
10 ounces sour cream
8 ounces fresh blueberries
Instructions
Preheat an oven to 275 degrees celsius. Grease a muffin tray or use muffin paper cups.
Sift flour with baking powder. Mix flour, baking powder and salt in medium bowl till combined.
Whisk egg in a second bowl till light coloured, about 20 seconds. Add sugar and whisk vigorously till thick and homogenous, about 30 sec.
Add melted butter in two additions, whisking to combine after each addition.
Add sour cream in two additions, whisking just to combine.
Add blueberries to the flour mixture and toss to combine.
Add sour cream mixture to flour mixture and fold with a spatula till the batter comes together.
Make sure blueberries are evenly distributed. Do not overmix. The batter will be thick.
/4 fill each muffin cup with batter.
Bake for 30 minutes or until tops are golden brown and a toothpick inserted in the centre comes out clean.
Notes
Adapted from "The New Best Recipe"