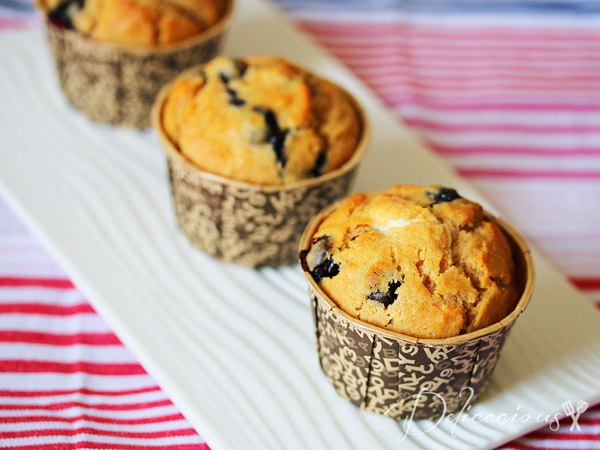 If you are a frequent visitor to Delicacious, you would have noticed that there are several muffin recipes. In fact, there are several variations of muffin recipes just for blueberry or berry muffins. One of my favourite thus far are these Whole Wheat Honey Berry Muffins. These Blueberry Cheesecake Muffins however, are making it fast to the top of the favourites list. The inspiration hit when I had some cream cheese left over from baking a cheesecake and the little one asked for blueberry muffins. How about a muffin with some cream cheese in the centre? Sounds good doesn't it? I wanted a whole wheat muffin, and so I opted to use half whole wheat and half plain flour in this recipe. You can however, substitute the plain flour for whole wheat flour if you prefer.
I have since made these muffins at least three times and each time, my little one loved it. I have substituted strawberries in place of blueberries and the muffins have turned out great too! It's a very versatile recipe. Do try it!
Breakfast Series - Wholewheat Blueberry Cheesecake Muffins
Ingredients
1¼ cup whole wheat flour
1 cup plain flour (you may substitute with whole wheat flour)
¼ tsp salt
4 tsp baking powder
2 eggs, lightly beaten
3½ oz unsalted butter, melted and cooled
¼ cup honey
1 cup milk
5 oz blueberries
2 oz cream cheese, cut into 12 pieces
Instructions
Preheat oven to 200°C and centre an oven rack. Place 12 paper muffin cases on a baking tray.
In a large mixing bowl, whisk together flours, salt and baking powder. Set aside.
In a large measuring cup, whisk together butter, honey, eggs and milk.
Pour wet ingredients into the flour mixture and using a whisk, stir gently to combine. Do not overmix.
Fold in blueberries.
Half fill each muffin case with the mixture. Place a piece of cream cheese in the centre. Evenly distribute the rest of the muffin mixture among the 12 cases.
Bake for 15 - 20 minutes, or until muffins are golden brown.
This post is shared at these 
blogs
.