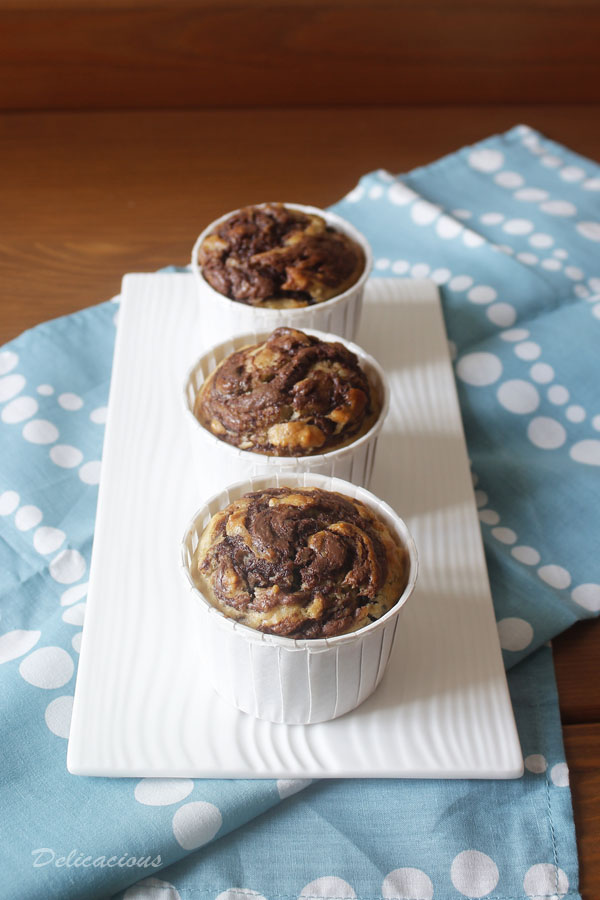 I was mulling over what to bake for breakfast and asked my husband if he preferred oatmeal bread or honey wholewheat bread. "Chocolate Banana bread!" my little one chimes in. Chocolate banana bread? Now where did that come from! She has never tried chocolate banana cake, bread, muffin or anything of that combination. It did sound like a good idea though. After all, I really like chocolate mousse cake with banana slices.
So breakfast was decided. Chocolate banana bread. Only that a loaf of bread sounded a little boring. "How bout chocolate banana muffins instead?" I asked the little one. She nodded in agreement. I never thought that my 2.5 y.o will be deciding the breakfast menu at such a young age!
I set out to bake Chocolate Banana muffins. And then I had a brainwave. My husband loves nutella. How bout topping each muffin with just a little nutella? Brilliant isn't it? I would think so because the muffins were so good. I love the texture, the flavour, the chunky banana and the bits of chocolate AND the nutella. You would love it too, if you try it!
Nutella Swirled ChocoNana Muffins
Ingredients
2 cups plain flour
½ cup sugar
½ teaspoon baking soda
½ teaspoon salt
3 ripe bananas, mashed coarsely
2 large eggs, beaten
3 ounces unsalted butter, melted and cooled
1 teaspoon vanilla extract
¼ cup buttermilk
½ cup semi-sweet chocolate chips
nutella
Instructions
Preheat oven 175ºC.
Place 8 large standing muffin liners on a baking tray. (You can use a muffin tray as well.)
In a large mixing bowl, combine flour, sugar, baking soda and salt.
In a smaller mixing bowl, add eggs, melted butter, vanilla extract and buttermilk to the mashed bananas. Stir to combine.
Pour wet ingredients into the dry ingredients and fold gently.
Stir in the chocolate chips.
Fill each muffin cup to ¾ full.
Top with ½ tsp of nutella. Swirl with a toothpick or a small spatula.
Bake for 20 minutes, or until a tester comes out clean.
This post is shared at these blogs.