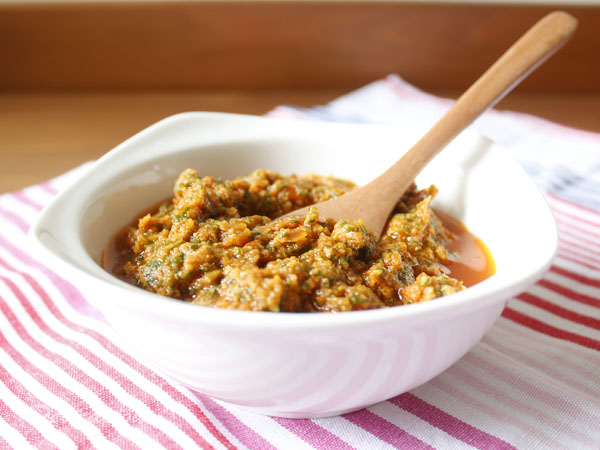 I love sun-dried tomatoes. They are rich in flavour and can be used in so many ways. I particularly like them in pastas and salads – that distinct taste of sun-dried tomatoes livens up the whole dish! I usually use sun-dried tomatoes that are steeped in olive oil. If you use the dried ones, you will have to reconstitute them in some water. Do not throw away the water though, use it in your pasta!
The idea for this pesto came about while I was thinking about what to cook for lunch. Unlike some, I don't have a weekly meal schedule planned. I cook (and blog) whatever happens to come to mind. I'm definitely not the most organised person, as you can see. Since I was running out of time, I figured that a quick pasta would do the job. A pesto would be pretty easy to prepare too – toss a couple of ingredients into the food processor and tada! Pesto!
I didn't have much basil on hand. I had a dying infested basil plant and obviously, I couldn't use that. So, I decided to use sun-dried tomatoes as the main ingredient. It was a lovely choice. The next time I make it, I will prepare some pita bread and use it as a dip.
Sun-dried Tomato Pesto
Ingredients
1 cup sun-dried tomatoes, packed in oil
¼ cup parsley, stalks removed
5-6 basil leaves
¼ cup parmesan, grated
1 clove of garlic
¼ cup olive oil (can be substituted with oil from tomatoes)
salt and pepper
Instructions
Drain the oil from the sun-dried tomatoes. Chop the tomatoes roughly.
In a food processor, combine tomatoes, parsley, basil and garlic.
Process the mixture for a couple of seconds. Scrape down the sides.
Add the olive oil slowly, pulsing in between additions till the mixture resembles a paste.
Season with salt and pepper.
This recipe will be shared at some of these blogs.