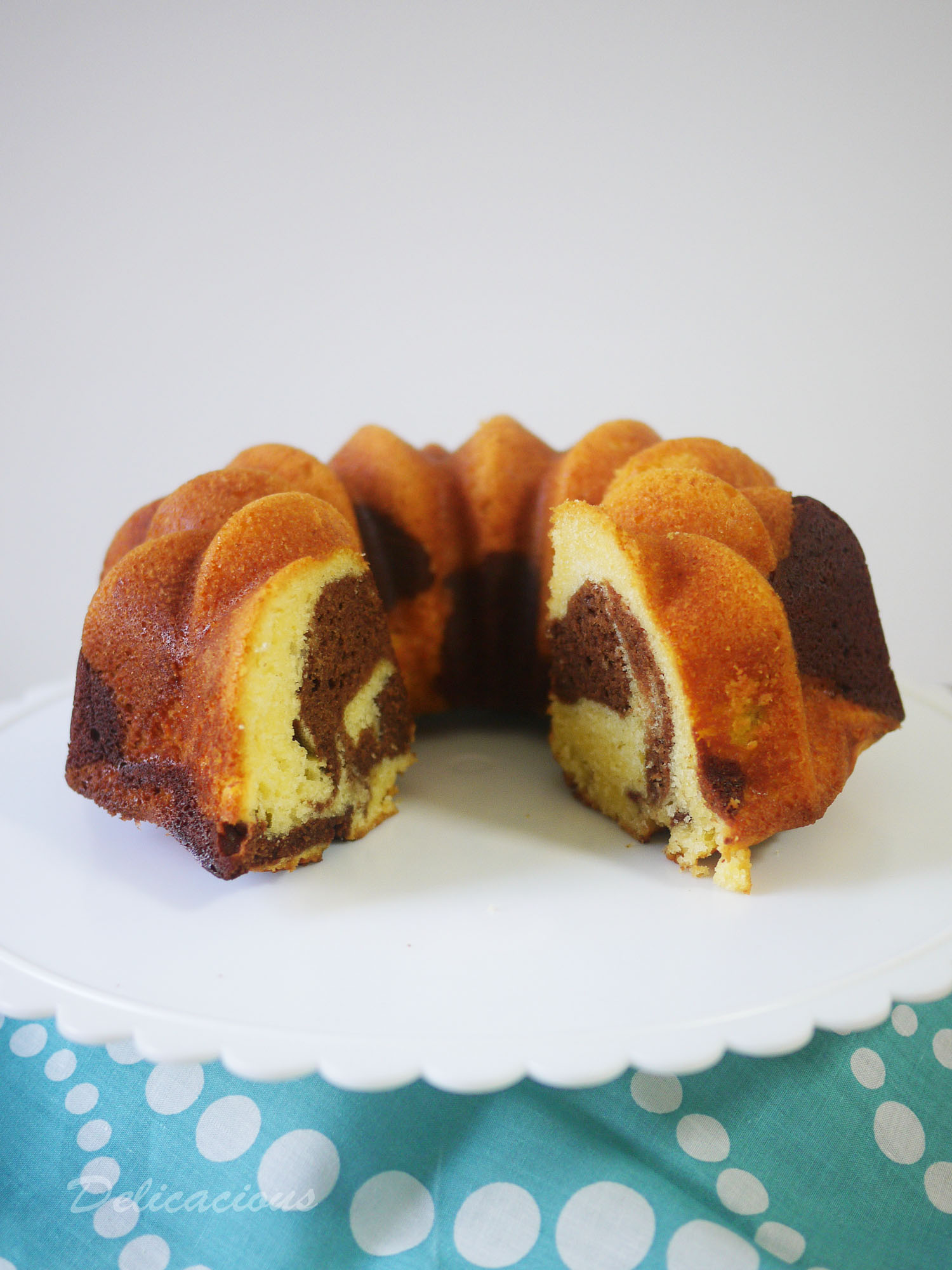 I love the combination of passionfruit and chocolate. I remember tasting my first passionfruit chocolate macaron some years back. It was love at first sight taste – the tangy sweetness of the passionfruit combined with bittersweet chocolate. Pure bliss.
This passionfruit marble cake is my attempt to recreate the passionfruit chocolate flavour that I love. My first attempt at passionfruit marble cake was a loaf cake. Though it was nice, I felt that the texture could be improved and so I did not post the recipe. This time, I modified the initial recipe and used a bundt pan to bake the cake. Why use a bundt pan? Bundt pans help to conduct heat evenly to all surfaces of the cake while keeping the cake moist. Not to mention the added advantage of a pretty cake!
Passionfruit Marble Cake
Ingredients
⅔ cup caster sugar
zest of 1 lemon
185g unsalted butter
3 eggs
½ cup passionfruit puree
⅔ cup milk
2½ cup self-raising flour, sifted
280g dark chocolate, melted and cooled
Instructions
Preheat oven to 180°C. Grease a 10 cup bundt pan.
Rub lemon zest into sugar. Set aside.
In the bowl of a standing mixer, cream butter and sugar on medium high speed till light and fluffy.
Add eggs, one at a time, beating for about half a minute after each addition.
Add in passionfruit puree and beat to combine.
On low speed, add in flour in three parts, alternating each addition with milk.
Separate ⅓ of the batter into another smaller mixing bowl.
Using a spatula, mix in the cooled chocolate.
Spoon both cake batters into the bundt pan, starting and ending with the plain batter. Swirl batter lightly with a small spatula. (Do not overmix!)
Bake for 40 - 50 minutes, until a skewer comes out clean.
Allow cake to cool for 10 minutes in the pan before removing.
I am sharing this recipe at these blogs!