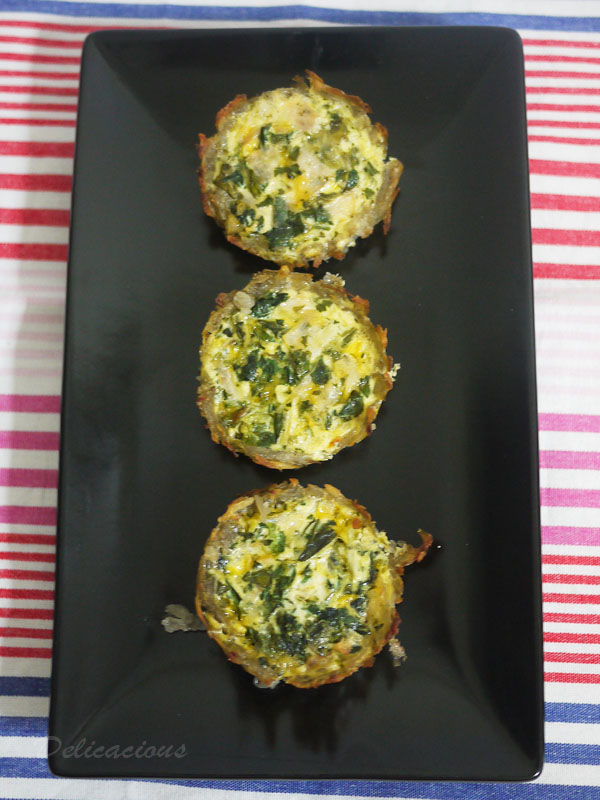 Potato crusted spinach quiche – just because I was too lazy tired to make a proper shortcrust pastry for the quiche. Why? Last weekend was a crazy weekend. I was coordinating a wedding on Sunday, my girl was the flower girl for the wedding and hubby was coordinating a Children's Day carnival at the same time, somewhere else. By the time we were all done with our various engagements and responsibilities, it was 4pm, and we were ready to hit the sack. There was still dinner to plan for though. Neither of us wanted to eat out, and I was too tired to prepare anything complicated.
Since I had spinach and ham, a quiche sounded like a possibility but no way was I making the crust from scratch at 4pm. I recalled seeing a potato crusted quiche somewhere on Pinterest and so I decided to use potatoes in place of the crust. Whoever thought of that was brilliant.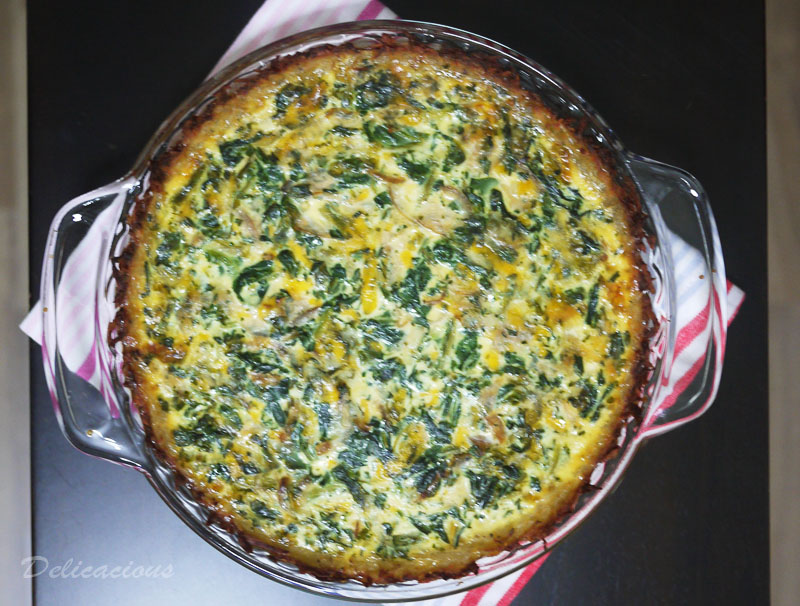 I used a glass dish to bake the big quiche, and made a couple of small quiches with the left over potato and filling. (A muffin pan is great for making mini quiches.) The verdict? Having made regular quiches before, I must say the potato crust adds a different dimension to the quiche. I really like the crunchy, slightly burnt sides of the potato crust. Seeing that this quiche is popular even with the little one, I think it'd be making its appearance on the dinner table again soon.
Potato Crusted Spinach Quiche
Ingredients
Potato crust
2 medium russet potatoes, peeled and shredded
1 tsp oil
salt and pepper
Quiche filling
1 small onion, sliced thinly
1 tbsp olive oil
5 large eggs, beaten
1 cup of milk
salt and pepper
3 slices of ham, cubed
1 cup of chopped frozen spinach, defrosted.
1 cup shredded swiss cheese/mild cheddar
Instructions
Preheat oven to 205°C.
Combine shredded potatoes and oil. Season with salt and pepper.
Lightly grease a 9 inch round glass dish.
Press potatoes into an even layer in the dish and up the sides of the dish.
Bake for 20 minutes and set it aside to cool.
Meanwhile, in a small skillet, sauteed onions in olive oil till soft. Set aside.
In a large bowl, whisk together eggs, milk, salt and pepper.
Remove excess liquid from the spinach and add it to the egg mixture, along with the ham and onions.
Stir in the cheese.
Pour egg mixture into the cooled potato crust and bake for 40 - 50 minutes. Tent with foil if the top gets brown too quickly.
Cut into wedges and serve warm.
I am sharing this post at some of these blogs.