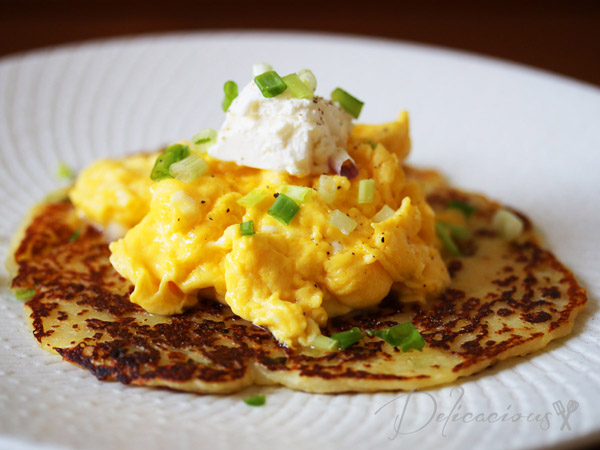 Here's a continuation of the breakfast series on Delicacious! This time, I'm sharing a recipe for savoury potato pancakes, topped with creamy scrambled eggs and a knob of cream cheese. Yummy! In the past, my family enjoys going out for weekend breakfast or brunch. We usually choose a location near to a park or playground so that my little one can run around too. Lately though, the rising costs of food prices and the dropping of food standards at some of our preferred haunts have resulted in us preparing weekend breakfasts at home. Not a bad thing, I must say.
These savoury potato pancakes were popular both with the hubby and my little one. They are crisp on the outside and soft on the inside. The scrambled eggs and cream cheese enhanced the flavours of the pancake. You can be creative and add smoked salmon or crisp bacon atop the scrambled eggs too!
I shared the recipe for this delicious breakfast at The Best Blog Recipes. Hop over and check it out!