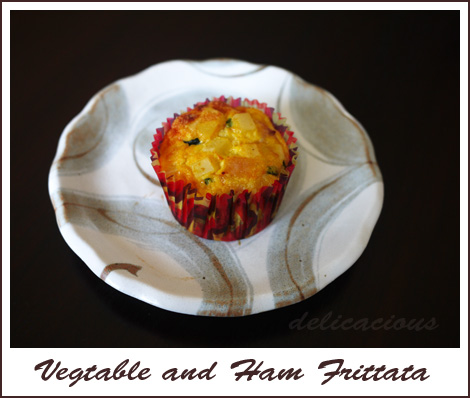 I woke up this morning at 6am with the realisation that I had not prepared anything for my toddler's lunch box. In fact, I had no idea what to prepare. You see, three weeks ago, my two year old started pre-school at a Montessori that required them to bring their own lunchboxes. Since then, the mornings have been more "stressful" than usual. This is because as a teacher, I have to leave for work early too and that gives me very little time to prepare her lunchbox!
A quick glance in the fridge and I realised I had a couple of vegetables and ham. So I decided to modify a baked frittata recipe that I saw somewhere, sometime ago and came up with this. When it finished baking, I had just enough time to throw two into a lunchbox for my own snack and another two for my hubby. Two went to the little one of course.
The good news? Despite the rushed preparations, the frittatas must have tasted good to her because she finished both of them (I think, judging by the empty lunchbox). So this goes into my list of lunchbox ideas. More to come!
Note to self: Come up with a weekly menu……….
Vegetable and Ham Frittata

Print recipe
Ingredients
2 tablespoons Olive Oil
1 clove Garlic (finely chopped)
1/2 Carrot (finely chopped)
1/2 Zucchini (diced)
1 Potato (diced)
2 pieces Turkey Ham (diced)
3 Eggs
1/2 cup Milk
1/2 cup Grated Parmesan
Ground black pepper
Salt
Directions
Step 1
In a skillet, sauteed garlic, zucchini, potato and carrots in olive oil for 3 minutes. Add ham and sauteed for another 2 minutes. Season with some pepper and salt and set aside to cool.
Step 2
Preheat oven to 180°C.
Step 3
In a large bowl, beat eggs with milk and cheese. Add cooled ingredients and mix to combine. Season with more salt and pepper if necessary.
Step 4
Spoon into prepared muffin cases and bake at middle rack for 20 - 25 minutes. The tops should be puffed up and golden brown.
Step 5
Serve warm, with a salad if you like.