I had bought a packet of frozen spinach last week, meaning to cook creamed spinach some time this week. When this did not materialise, I decided to do something else with the spinach.
I was too lazy to roll out a crust, and so I decided that this quiche was going to be crustless. To save the trouble of having to cut it up, I decided to bake the quiche mixture in a cupcake tin. I used some aged pecorino cheese in place of gruyere cheese, the typical choice for quiches.
The quiche turned out nicely, though I think it was a tad bit salty, as I forgot that pecorino is saltier than gruyere, and forgot to cut down the salt.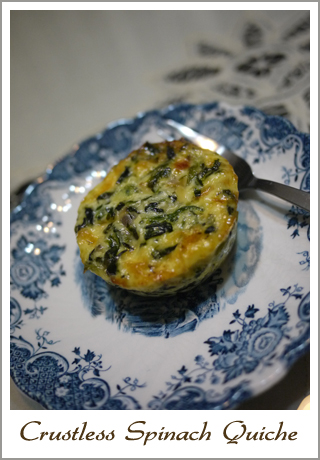 Crustless Spinach Quiche
(Makes 10 mini quiche)
Ingredients:
1 packet of chopped frozen spinach
1 red onion, chopped
2 tbsp olive oil
4 eggs
1 1/2 cups of cream or half and half
1 cup of cheese (gruyere/pecorino/mozarella etc)
1/2 tsp of salt (or less)
1/4 tsp of ground black pepper
1/8 tsp of ground nutmeg
Method:
Preheat oven to 205°C.
Fry the chopped red onion in olive oil until fragrant and translucent.
Add drained spinach until it wilts and is dry.
Remove from heat to cool.
In a large bowl, combine eggs, cream, cheese and seasonings.
Add in cooled spinach and mix to combine.
Fill 10 cupcake molds.
Bake for 20 minutes or until tops of quiches are golden brown.