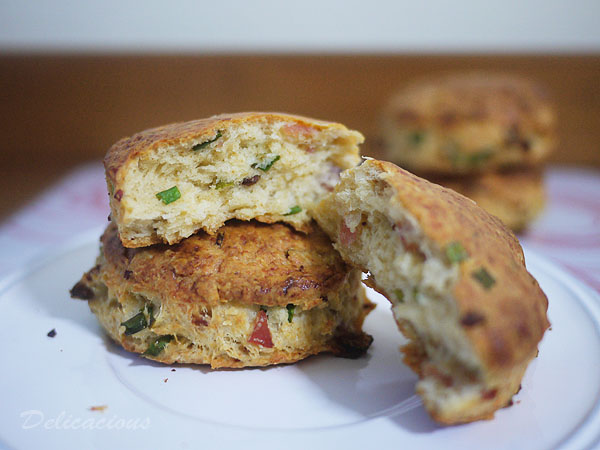 This post is dedicated to all you bacon lovers out there. Yes, this post on BACON, parmesan and scallion scones. Don't you just hear it calling your name? Wait. A savoury scone? YES. A savoury scone. Surely scones don't have to be served sweet, with clotted cream and jam? I think not. I would like to think that the addition of bacon to scones (or to anything) makes it perfect. For those who still like their scones sweet, I'm happy to report that I crisped the bacon with some brown sugar. Add some parmesan and scallions and there you have it – the perfect meal all in a scone. Are you convinced yet?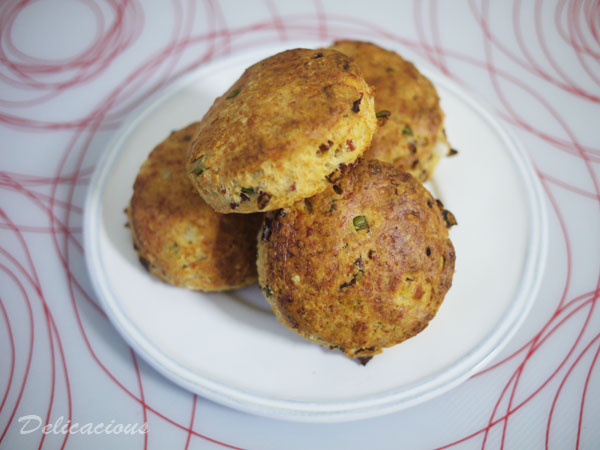 You may be surprised to hear that I was not a huge scone fan. That may explain why you have not (till now) seen a scone post on this blog. You see, when I was young, my mom liked to buy these raisin scones from a certain popular bakery. Their breads may have been nice but their scones were rather dense, floury and unappetising. I didn't like them and since they were the only scones I came across, I grew up with the impression that scones were dense, floury and unappetising things. It wasn't only till fairly recently when I tasted some better scones that I changed my mind. I am convinced though, that I still prefer savoury scones (especially if there's bacon in it).
Bacon Parmesan and Scallion Scones
Ingredients
Bacon crisps
100g back bacon
2 tsp brown sugar
Scones
2 cups plain flour
2 teaspoons sugar
1 teaspoon salt
1 tablespoon baking powder
2 ounces cold unsalted butter
1 cup grated parmesan cheese
½ cup chopped scallions
100g crisped bacon, chopped
¾ cup buttermilk
Instructions
Bacon crisps
Preheat oven to 200°C.
Place pieces of bacon on a tray lined with baking paper.
Sprinkle brown sugar on it and bake for about 15 minutes.
Allow bacon to cool.
Chop it into small pieces and set aside.
Scones
Preheat oven to 215°C.
Whisk flour, salt, baking powder and sugar together in a large mixing bowl.
Using fingertips or a pastry cutter, rub or cut butter into the flour mixture until the mixture resembles fine breadcrumbs.
Add in cheese, scallions and bacon and stir to combine.
Make a well in the mixture and add in the milk.
Mix mixture together to form a dough. Do not overmix.
Form dough into a disc about ¾ inches thick.
Cut out rounds using a cutter. Gather scraps of dough and repeat till dough is used up. You should have about 8 rounds.
If reserving for later use, place scones on a baking sheet and freeze. Once frozen, store in a ziplock bag.
If baking, place scones on a baking sheet lined with baking paper.
Brush scones with milk and bake for 20-24 minutes, or until they are risen and golden brown.
Serve warm or at room temperature.
I will be sharing this post at some of this blogs here.