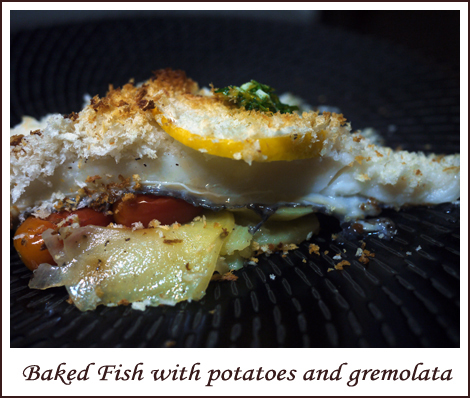 25th Nov was Cook For Family Day, an event that I had the privilege of organising following a Cook For Family initiative started off earlier by Daniel of Daniel Food Diary.
For Cook For Family Day, I decided to try out a recipe that I saw in an earlier issue of Delicious magazine that I borrowed from my sister-in-law. It is simple and fuss free, as with most one-pot oven meals. Toss everything in and walla! A tasty meal awaits you and your family. If you have a larger family, simply increase the amounts of the recipe below accordingly. Like some spice, add some red chilli slices during the final baking step!
My family and I enjoyed the fish and vegetables very much. The baked fish was moist and tender and the gremolata added alot of flavour. Do not omit it!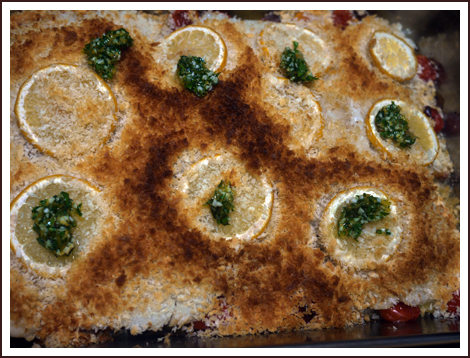 Try out this simple recipe when you have the time. It is definitely worth it.
Baked fish with potatoes and gremolata

Print recipe
Ingredients
Baked Fish
500g Potato (peeled and thinly sliced)
1 onion (thinly sliced)
2 tablespoons olive oil
20g unsalted butter
250g Cherry Tomatoes
100g breadcrumbs
700g Halibut fillets (3 - 4 pieces, depending on size)
1 lemon
Gremolata
1/4 cup Extra virgin olive oil
2 cloves Garlic (finely chopped)
1 Lemon's zest (Grated)
1 bunch English parsley (finely chopped)
Directions
Step 1
Preheat oven to 180°C.
Step 2
Spread potatoes and onions in a large roasting pan and drizzle with 1 tbsp of olive oil. Season with salt and ground pepper, then toss to coat.
Step 3
Spread it out to cover the base of the pan and dot with butter. Bake for 15 minutes.
Step 4
Add tomatoes, and return to the oven for 10 - 15 more minutes.
Step 5
Meanwhile, mix breadcrumbs with remaining 1 tbsp of olive oil and season with salt and ground pepper. Season the fish fillets with salt and pepper as well.
Step 6
Remove roasting pan from oven and place fish over potatoes. Cover with breadcrumbs and lemon slices and return to the oven for 12 - 15 more minutes.
Step 7
In a small bowl, combine extra virgin olive oil, garlic, parsley and lemon zest. Season to taste with salt and pepper.
Step 8
When fish is ready, remove from oven. Serve hot with gremolata.