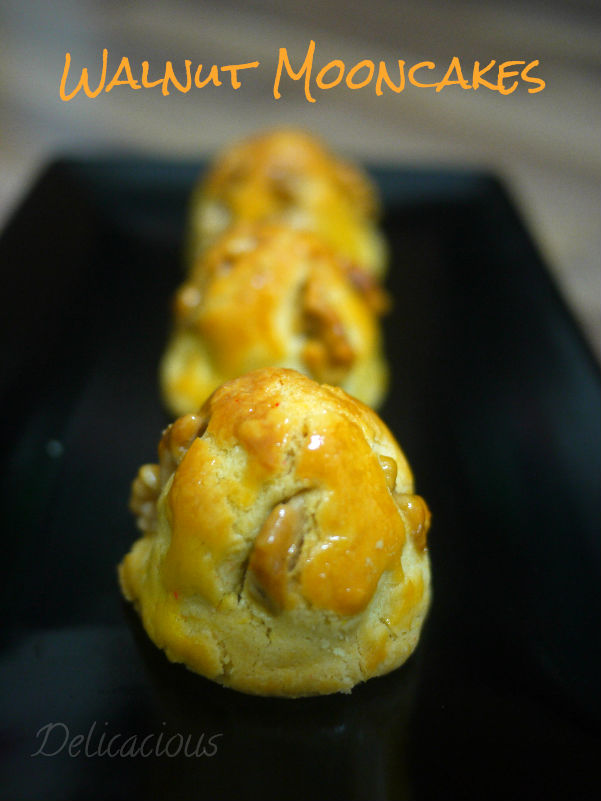 It's the Mid Autumn festival again! The festive season where shopping centres start to display stalls selling a variety of mooncakes. Mooncakes used to be pretty traditional but lately, they have evolved so much that I cannot even recognise them as mooncakes anymore. Now mooncakes come in a large variety of shapes, sizes and flavours; lately, there has been some rage here over "butt-shaped" mooncakes. Yes! I'm not kidding. They are made by Hong Kong's Goods of Desire (G.O.D) and are shaped like butts because butts look like full moons. Hmm…
For all the hype, I still prefer traditional mooncakes or snowskin ones. I've tried some of these exotic flavours (e.g. lychee martini, truffles, jackfruit, etc) and I have yet to find one that I really like. Except durian mooncakes. I can live with those.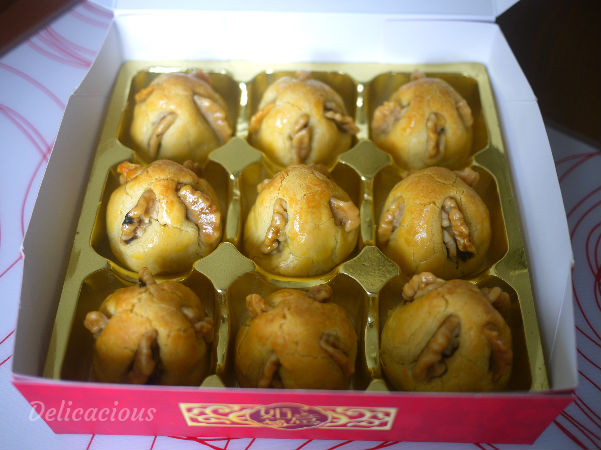 So, two years back, I started to make my own mooncakes. It is alot of fun and it is definitely cheaper than buying. So far I have tried making walnut mooncakes and snow skin mooncakes successfully. For walnut mooncakes, I like to add large pieces of walnuts to the pastry; it really brings out the flavour of the mooncake. The pastry is crumbly and contrasts the smooth lotus paste. This year, I added toasted melon seeds to the lotus paste and am happy with the results. Do they look professional enough to you?
Baked Walnut Mooncakes
Ingredients
Pastry
360g Plain flour
30g Custard Powder
½ tsp Baking soda
50g Icing sugar
50g Shortening
220g unsalted butter
1 egg
½ tsp Vanilla Essence
Filling
100g toasted melon seeds
750g White Lotus Paste
6-7 salted egg yolks (each cut into 6 pieces)
Before baking
1 Egg + 1 tbsp water (for glazing)
Walnut for decoration
Instructions
In a large bowl, sift flour, custard powder and baking soda together. Whisk ingredients together and set aside.
In the bowl of a standing mixer set to medium high speed, cream sugar, shortening and butter together until slightly pale.
Gradually add in egg and vanilla and beat on medium high speed.
Fold in flour mixture in two parts. Refrigerate dough overnight.
Take out dough from fridge and divide into portions of 20g each.
Bake salted egg yolks for 5 minutes at 160ºC. Set aside to cool. Cut each yolk into 6 pieces.
Mix melon seeds with lotus paste. Divide fillings into about 25g each.
Wrap a piece of salted egg yolk in each ball of filling.
Wrap fillings into dough and decorate with walnut.
Apply egg wash on mooncakes and bake at 160ºC for 10 mins.
Remove from oven and apply egg wash. Allow mooncakes to rest for 10 mins. Return to oven and bake for another 20 mins.
Notes
This recipe is adapted from bakingmum.blogspot.com
I am sharing at some of these wonderful blogs!