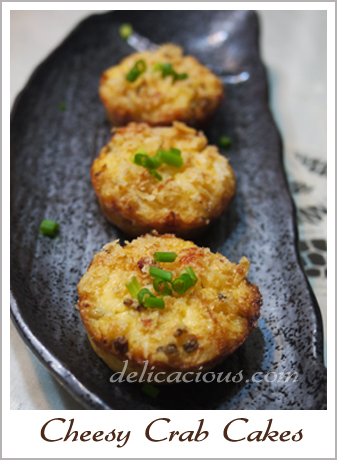 I salute those housewives who cook dinner everyday and not run out of inspiration of what to cook. Because after just two weeks or so of doing so, I am fast running out of ideas and with the growing bump, energy. Yes, since I'm the one who's at home these days while the hubby is studying, the responsibility of cooking dinner every night seems to have fallen on my shoulders – at least for a week or so more before I pop. Most of the nights it's Chinese food, but there are days when you do not want to do another stir-fry or see another bowl of rice. Last Saturday was one of those days.
I checked the freezer and found soft frozen crab meat and so decided to do something with it. I didn't quite want to do a pasta, seeing that both of us had a rather heavy lunch and so decided on these crab cakes. Most crab cakes need to be fried, which was simply too much work when you want a simple meal and so I decided to use a recipe that didn't require frying, just baking. I served these up with a mushroom soup and a simple salad – a simple yet tasty meal on a weekend evening.
Cheesy Crab Cakes
Ingredients
Crab mixture
4 ounces cream cheese
⅛ cup grated Parmesan cheese
1 egg
2 tbsp sour cream
½ tsp orange zest
¼ tsp lemon zest
⅛ tsp coarse sea salt
Pinch of cayenne pepper
3 oz crabmeat
1 tbsp chopped spring onions
Base and topping
½ cup Japanese breadcrumbs
1 oz unsalted butter, melted
1 tbsp chopped spring onions
Salt and pepper
Instructions
Preheat oven to 350ºF and lightly grease a 12 cup muffin tin.
Using a standing or hand-held mixer, beat cream cheese till smooth.
Add in Parmesan cheese, egg and sour cream and beat to blend.
Next, beat in the orange and lemon zests, sea salt, cayenne pepper and spring onions.
Fold in the crab meat and set aside.
In a small bowl, combine breadcrumbs, melted butter and chopped spring onions. Season with salt and pepper.
Place a teaspoon of breadcrumb mixture at the bottom of each muffin cup and flatten it using the back of a spoon.
Top with a generous amount of crab mixture.
Sprinkle another tsp of breadcrumb mixture at the top.
Bake crab cakes for about 25 minutes, until golden on top. Serve warm.
Notes
Adapted from Bon Appetit