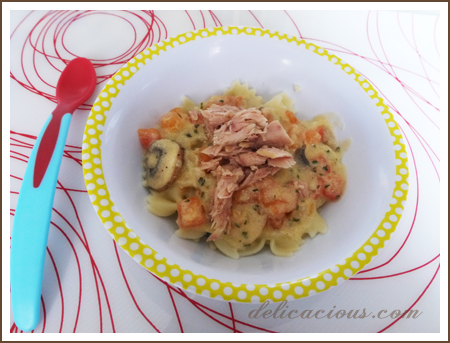 In a recent shopping trip to the supermarket, I discovered salt-free canned spring water tuna. I didn't even know they sell that at NTUC finest! What a lovely discovery as that means that I can cook tuna pasta for my little one. I made extra pasta sauce and cooked some spaghetti so that the adults could have some too. The little one had hers with mini pasta bows. When she saw her bowl of pasta, her eyes lit up and she went, "WOW!" That was worth all the effort.
Cheesy Tomato and Tuna Pasta
Serves 4 adults
Ingredients:
1 small onion, chopped
40g unsalted butter
6 button mushrooms, sliced
1/4 tsp dried thyme
2 tbsp plain flour
300ml milk
100g cheddar cheese, grated
1 tomato, peeled and deseeded, chopped
1 can tuna in springwater, flaked
salt and black pepper to taste
sprinkling of parsley
pasta of your choice
Method:
Saute onions in butter until translucent.
Add sliced mushrooms and saute for 2-3 minutes.
Mix in dried thyme.
Add flour and stir till well mixed. Slowly add in milk and cook till thickened.
Stir in tomatoes and cheese and heat through.
Season with black pepper (and small amount of salt if cooking for children above 1)
Pour over cooked pasta and top with flaked tuna.
Sprinkle with parsley and serve.