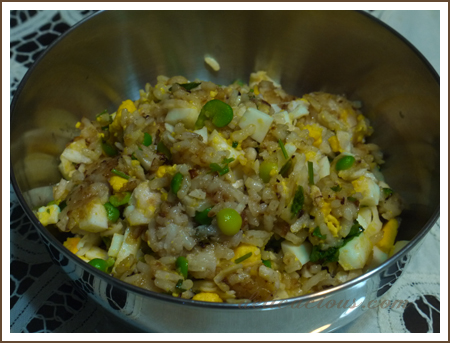 I made Kedgeree for the little one yesterday. Well, a mock kedgeree would be more accurate, seeing that I replaced curry powder with paprika. I would have loved to add a little tumeric but I realised that we had none at home. The little girl was enthusiastic about it, tumeric or not, and that's what counts.
Child's Kedgeree
Serves 1 hungry toddler
Ingredients:
A small piece of white fish (approximately 4-5 ounces)
1 bay leaf
A few peppercorns
Milk for poaching
1 tbsp unsalted butter
1/2 an onion, chopped
1/8 tsp paprika
1/8 tsp tumeric
1/4 cup green peas
1 hard boiled egg, chopped
1 cup cooked long grain white rice
1 small bunch of parsley, chopped
salt and pepper to taste
Method:
In a small saucepan, poach the fish in milk with the bay leaf and peppercorns. Fish is ready once it flakes.
Flake fish carefully and set aside.
In a frying pan, melt butter and sauteed onions till soft and translucent.
Add paprika and tumeric (if using)
Add green peas, rice and hard boiled egg. Mix well till heated through.
Lastly stir in flaked fish and parsley.
Serve warm.