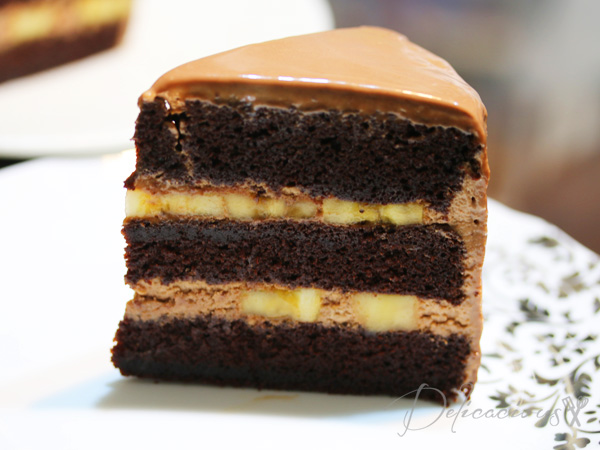 This was my birthday cake. And yes, I baked it myself. For the first time in forever (you can tell that my daughter is still having Disney Frozen fever), I baked myself a birthday cake. It was a spur of the moment decision really. I bake my childrens' birthday cakes, I bake my husband's birthday cake, I even bake my friends' children's' birthday cake, why shouldn't I bake my own birthday cake? My hubby didn't agree though – he said I deprived him of a chance of buying me a cake. 🙂
So happy me got to bake TWO birthday cakes for myself. Well, theoretically this is the birthday cake but I had a staff workshop in the morning and baked a simpler chocolate banana cake (the non-layered type) for my colleagues. But let's talk about this cake instead. I love the Secret Recipe chocolate banana cake. On the rare occasions that I'm there, that's the cake I always order. Unfortunately, it's expensive. Well, most cakes are these days. And so when I saw The Baking Biatch's Chocolate Banana Cake, I decided to try my hand at making the cake. I didn't end up using her recipe, as I wanted a more chocolatey cake (her sponge cake is a lighter chocolate cake with less cocoa content), but inspiration came from there.
Essentially, I used my favourite Chocolate Devil's Food cake (recipe modified from Munira's chocolate devil food cake) as a base, filled the in-between layers with chocolate whipped cream and bananas, and covered the cake with chocolate ganache. I used Valrhona chocolate for this cake (which really made a difference), but you can use your favourite good quality chocolate. For the many who have been asking for the recipe, here goes…
Chocolate Banana Layered Cake
Ingredients
Chocolate Cake
1 cup cake flour
1 cup plain flour
¾ cup dutch-processed cocoa powder
1 tsp baking powder
2 tsp baking soda
1 tsp salt
1⅓ cup Demerara sugar
2 eggs (room temperature)
¾ cup vegetable oil
1 cup buttermilk (Add 1 tbsp white vinegar and add milk to form 1 cup)
1 cup hot coffee (1 tsp instant coffee granules dissolved in hot water)
1 tsp vanilla extract
Chocolate whipped cream
85g couverture chocolate (dark or milk, your preference)
1 cup whipping cream
Chocolate ganache
120g dark chocolate couverture (I used a mix of milk and dark couverture)
1 cup whipping cream
To assemble
Simple sugar syrup (optional)
3-4 large bananas, sliced
Instructions
Chocolate Cake
Preheat oven to 170°C.
Grease and line three 8 inch cake pans (you can use one large one and split the cake up as well)
In a large bowl, sift together the dry ingredients.
In another large bowl, combine the wet ingredients.
Add the wet ingredients to the dry ingredients and using a whisk and starting from the centre, slow combine till you get a smooth batter.
Divide among the cake pans and bake for 20-25 minutes or until a tester inserted in the middle comes out clean.
Turn the cakes out of the pans and cool on racks completely.
Wrap cakes in cling wrap and chill for 30 minutes or more to allow for easier frosting.
Chocolate whipped cream
Melt chocolate in the microwave or in a double boiler. Allow it to cool for 15 minutes or so.
Meanwhile, whisk whipping cream in the bowl of a standing mixer till it forms stiff peaks. (I chill the bowl and the whisk before use)
Add ⅓ of the whipped cream to the melted chocolate to lighten it.
Then pour the chocolate mixture into the remaining whipped cream and fold gently to combine.
Chocolate ganache
In a small pot, heat whipping cream till bubbles form at the side. Do not allow it to boil.
Pour hot whipping cream over chocolate and whisk till chocolate melts.
Allow it to cool slightly and thicken before use.
To assemble
Spray the first layer of cake with sugar syrup (optional)
Spread whipped cream on the cake and top with sliced bananas
Top with more whipped cream and place the second layer of cake above it.
Add whipped cream, bananas and more whipped cream.
Top with the third layer of cake.
Ice the top and sides of the cake with more whipped cream.
Place in the fridge to chill till firm.
While the cake is chilling in the fridge, you can prepare your ganache.
Place chilled cake on a rack.
Pour ganache over the cake and allow it to flow down the sides.
Chill cake till ganache sets.
Slice, serve and enjoy.