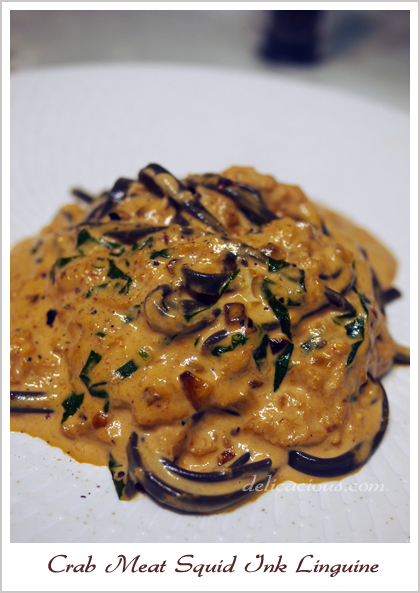 I had attempted something similar awhile back, but didn't have squid ink linguine then. After acquiring some lately, I decided to give it another shot, and document the recipe if it tastes good. Even though I would not attempt to compare it with my favourite crab meat squid ink pasta from Valentinos, I do think that my attempt to reproduce the very popular pasta dish was a rather good one. Perhaps the next time, I will try using crushed tomatoes instead, and see if that improves the flavour. For now, here's version 1.
Crab Meat Squid Ink Linguine
Serves 2
Ingredients:
4 oz dried squid ink linguine
3 tbsp olive oil
3 garlic cloves, minced
3/4 tsp crushed red peppers
1/4 cup of basil leaves, sliced thinly
4 oz lump crabmeat
4 tbsp tomato paste (not ketchup)
1 1/2 cup of cream
salt and black pepper to taste
Method:
Bring water to boil in a large pot and salt liberally. Add in pasta and cook until tender but firm. Drain thoroughly.
Heat olive oil in a pan and add in minced garlic and crushed red peppers. Cook till garlic is golden.
Add in the crab meat and the basil and stir fry for a minute or two.
Add in the tomato paste and mix to combine.
Lower the flame and add in the cream, stirring to combine until the tomato paste is well mixed with the cream.
Allow the cream to come to a gentle boil, stirring continuously. Season with salt and pepper.
Add in the cooked linguine and toss to combine.
Serve on warmed plates.