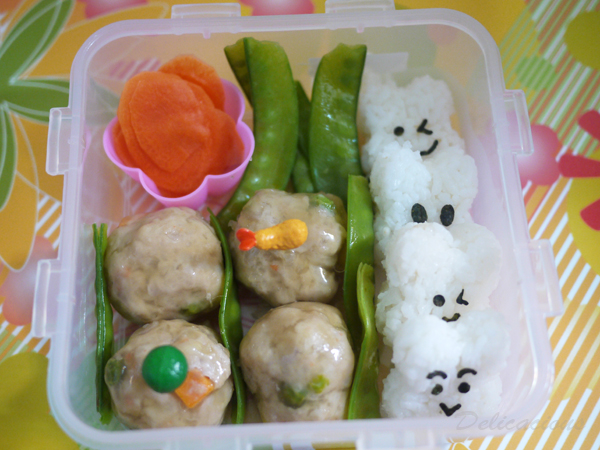 The June Daring Cooks' challenge sure kept us rolling – meatballs, that is! Shelley from C Mom Cook and Ruth from The Crafts of Mommyhood challenged us to try meatballs from around the world and to create our own meatball meal celebrating a culture or cuisine of our own choice.
I chose to do two variations of the same basic meatballs, based on a Japanese recipe. In the first variation – the meatball bento that I created for my daughter to bring to school, the meatballs were coated with a sticky sweet and sour sauce. This helps to keep them moist and delicious during the time before they were eaten. I made extra meatballs and kept the uncooked ones frozen for later use.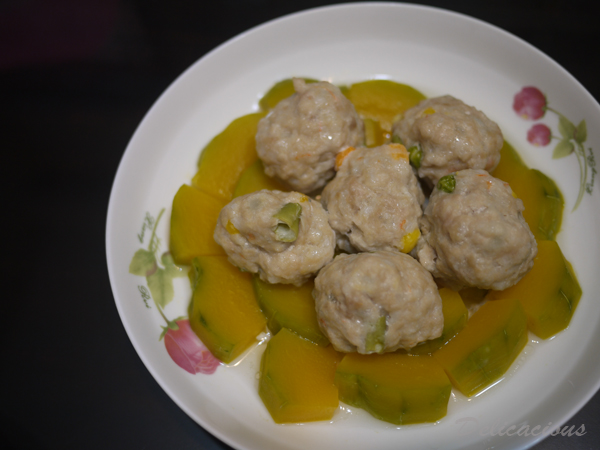 The second variation is steamed meatballs on pumpkin. This is very simple. I defrosted the meatballs from the earlier preparation, arranged them on sliced pumpkin and steamed the pumpkin with the meatballs. The pumpkin adds a natural sweetness to the dish, complementing the salty and slightly sweet flavour of the meatballs very well.
Daring Cooks June Meatball challenge: Meatballs two ways
Ingredients
Shrimp and Pork Meatballs
100g peeled shrimp, chopped
200g minced pork
3 tbsp finely chopped onion
1 tsp peeled and grated ginger
2 tsp soy sauce
1 tbsp cornstarch
½ tsp salt
2 tbsp frozen vegetables
1 tbsp vegetable oil
Sweet and sour sauce
1 tbsp cornstarch
2 tbsp water
½ cup chicken stock
2 tbsp rice vinegar
1 tbsp soy sauce
1 tbsp sugar
Steamed pumpkin and meatballs
¼ pumpkin, ]1/4 inch thick slices
Instructions
Shrimp and Pork Meatballs
In a medium bowl, mix all the ingredients (except for frozen vegetables and oil) together until sticky.
Add the frozen vegetables.
Form mixture into balls. (Meatballs can be frozen at this stage)
Drizzle balls with oil and steam on high heat for 8-10 minutes.
Sweet and sour sauce
Combine sauce ingredients in a small saucepan.
Once cornstarch has dissolved, place the pan over medium heat and stir continuously.
Once sauce has thickened and sauce is clear, remove from flame.
Coat meatballs in sweet and sour sauce (meatball bento)
Steamed pumpkin and meatballs
Arrange sliced pumpkin on a steaming dish.
Place meatballs atop.
Steam for 8-10 minutes until meatballs are cooked and pumpkin is soft
This post is shared at Foodie Friday at Rattlebridge Farm and Simple living and eating, and Freedom Fridays.