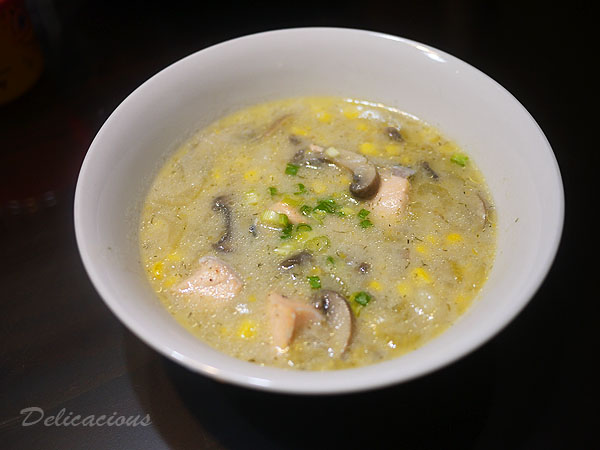 Are there days where you just crave a bowl of hot soup for dinner? I do so occasionally, especially on cold, rainy days. Or sometimes, it's just me being lazy and trying to figure out a quick fix for dinner. Whatever your reason for wanting soup for dinner, this salmon and corn chowder is sure to satisfy.  It is hearty, healthy (I use low fat milk instead of cream), and tasty, and goes perfectly with biscuits or soft dinner rolls. Serve this with my bacon, parmesan and scallion scones and you will definitely have very happy people at the dinner table.
My little one came into the room while I was typing this post, saw the photo and exclaimed, "Oh I remember this soup! It's full of corn, mushrooms and fish. It's yummy! I like it." There you go. Even two and a half year olds like it. I am sure you would too.
Salmon and Corn Chowder
Ingredients
2 tablespoons olive oil
1 stalks celery, cut into ½-inch slices
1 medium potato, cut into 1-inch cubes
¼ cup of chopped scallions
1½ cups corn kernels
4 cups chicken stock
1 cup low fat milk
Zest of 1 lemon
½ tsp dried dill
500g boneless salmon fillets, cut into 2-inch pieces
1 tbsp lemon juice
salt and pepper
cornstarch and water for thickening (optional)
Instructions
Heat the olive oil in a soup pot or dutch oven over a medium flame.
Sauteed celery and potato for about five minutes.
Stir in corn, scallions and stock.
Bring to a boil, then reduce flame to low and simmer covered for 12 - 15 minutes.
Stir in milk and lemon zest.
Add salmon and simmer for 3 - 5 minutes.
Stir in lemon juice.
Season to taste with salt and pepper.
Thicken with cornstarch water if preferred.
Serve hot.
Notes
Adapted from Epicurious
I'm sharing this post at some of these blogs here.