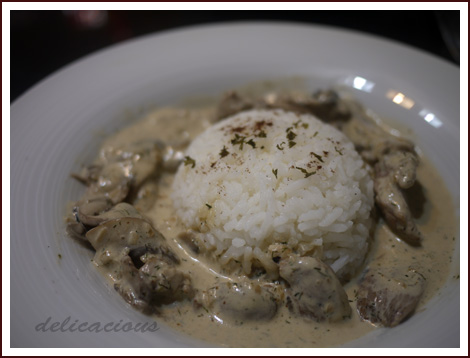 There are days where my family feels like having beef for dinner, but steak is well, too heavy. These are the times when I make stroganoff. It is somewhat of a comfort food to us, and I serve it over buttered noodles or rice. I usually use tenderloin, though there is no stopping you from using other cuts of beef such as rib-eye. My mother-in-law buys us nice pieces of tenderloin from Ghim Moh market often enough and so we usually have beef stashed in our fridge.
Even though beef stroganoff sounds like a fanciful dish, it really is quite simple to prepare, and requires but a few ingredients. I must emphasise here that dijon mustard is paramount to the taste of this dish – you must include it. I am not a big mustard fan, but the addition of the mustard in this dish brings out the flavours so much more.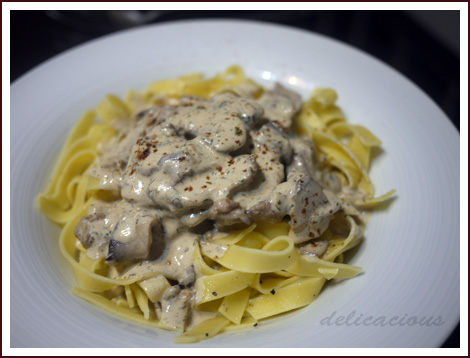 Easy Beef Stroganoff

Print recipe
| | |
| --- | --- |
| Serves | 3-4 |
| From magazine | Adapted from Bon Appetit |
Ingredients
600g beef tenderloin (cut into 2X1X1/2 inch strips)
2 tablespoons olive oil
4 tablespoons olive oil
1/4 cup chopped shallots
300g brown button mushrooms (sliced thickly)
1 cup chicken/beef broth (low sodium)
3/4 cups whipping cream
2 teaspoons dijon mustard
1/2 teaspoon dried dill
1/4 teaspoon paprika
salt and black pepper
Directions
Step 1
Dry beef strips using paper towels. In a large skillet, heat 2 tbsp oil over high heat. Brown beef strips in batches. Set aside.
Step 2
Add remaining oil to skillet and saute shallots until tender. Add mushrooms and stir fry till liquids evaporate slightly. Season with black pepper.
Step 3
Add in stock and simmer till stock thickens about 10 minutes. Stir in cream and dijon mustard. Add in beef and simmer till heated through.
Step 4
Stir in dill and paprika. Season with salt and pepper.
Step 5
Serve hot over rice or buttered noodles.