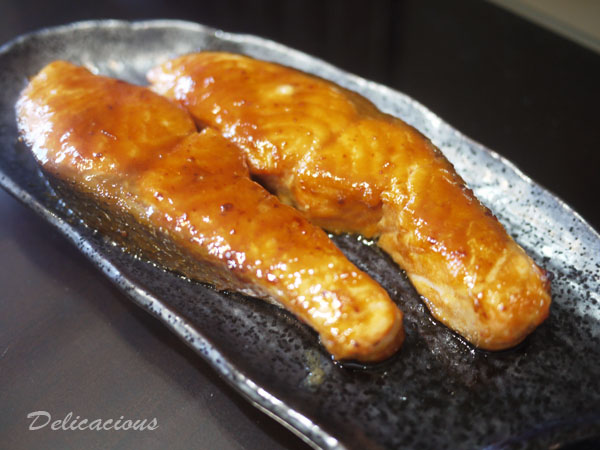 I am a fan of salmon, when it is prepared right. I like salmon best as sashimi; smoked salmon comes close when served with eggs benedict, rosti or in a good caesar salad. I may be changing my preferences soon though. This easy miso glazed salmon is rising fast in my list of favourite salmon dishes. The reasons? It is simple, healthy and really delicious.
Miso is wonderful not just because of its flavour, but because of its health benefits. There is a long list of benefits but I will just name a few. Scientifically, miso has been proven to reduce risks of colon, breast and prostate cancer. It is a source of probiotics, is high in anti-oxidants, lowers LDL (bad cholesterol) and strengthens the immune system. Are you rushing to your nearest Japanese food store to buy a tub of miso yet?
The longer miso is aged, the deeper its flavour and its colour. Commercially, miso is sold as shiromiso (white miso) or akamiso (red miso). You can also buy a blend of it. For this recipe, I used a blend of both white and red miso. Since the flavour of akamiso is stronger than shiromiso, you will want to adjust the amount of miso used according to the type you used.Ok enough about miso and back to the salmon. I tried this at a friend's house some time ago and it was so tasty that I had to try making it myself. The ingredients are really simple – miso, sake, sugar and soy sauce. That's it! The longer you marinate the fish, the tastier it is as the seasoning seeps into the fish. I would say though, that 30 min – 1 hour of marinating produces a pretty good result.
Ready to try out this dish? Here's the recipe!
Easy Miso Glazed Salmon
Ingredients
1 tbsp miso (I use a blend of white and red miso)
1 tbsp sake (use drinking sake, not cooking sake)
2 tsp sugar
1 tsp soy sauce
2 pcs boneless salmon fillet (about 150g each)
Instructions
Combine miso, sake, sugar and soy sauce in a small bowl.
Coat the salmon fillets completely with the marinate.
Cover and refrigerate for at least 30 minutes or up to overnight.
Preheat oven to 220°C with the broiler function (top heating)
Line a baking pan with foil and coat with a thin layer of oil.
Place salmon fillet skin side down on the foil.
Place salmon fillet on the second upper rack and broil for 6 - 10 minutes.
Serve hot with rice.
I'm sharing this post at some of these blogs here!