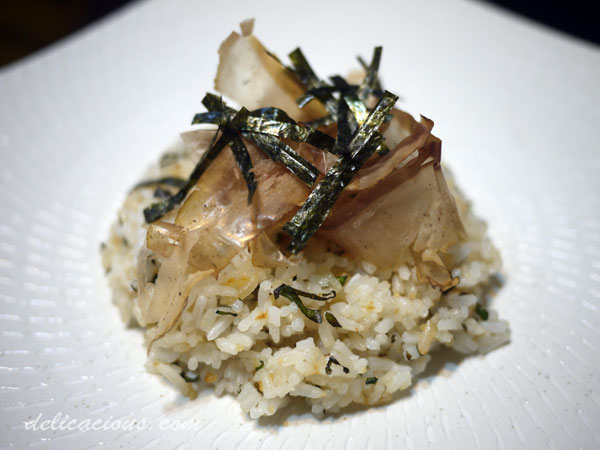 Weekend dinners are typically a simple affair, especially on Saturday nights when we have to rush to a church group gathering after dinner. This is where simple dishes such as this garlic fried rice comes in handy. This fried rice smells amazing and is very simple to prepare. It is great on its own, or as an accompaniment to meat dishes. I served this with gyoza.
What's so special about garlic fried rice you ask? This version of garlic fried rice is especially aromatic thanks to the addition of fresh basil and mint. Together with garlic, they form an amazing combination. Add some garnishes of dried bonito flakes and seaweed and the dish is complete. I suppose you can jazz this up with some meat but I like it this way. Simplicity at times, is the best.
Garlic Fried Rice
Ingredients
3 cloves of garlic, finely minced
5 basil leaves, chopped finely
5-6 mint leaves, chopped finely
2 tbsp vegetable oil
3 cups of cooked rice
1 tsp salt
1 tsp soy sauce
bonito flakes
seaweed
pepper to taste
Instructions
Heat oil in a medium skillet or frying pan and fry garlic till golden brown and aromatic.
Add rice and salt.
Add soy sauce by trickling it down the side of the pan. Mix in it into the garlic rice.
Add basil and mint leaves and fry for a minute.
Season with pepper.
Serve hot, with bonito flakes and seaweed.
Notes
Adapted from Harumi's Japanese Cooking
This post is shared at some of these link parties!