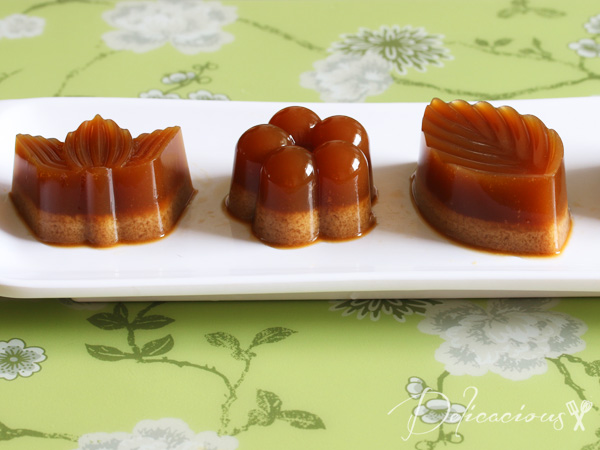 Gula melaka and coconut = a match made in heaven. How can anything with gula melaka and coconut not taste good? That probably explains why these little pieces of deliciousness were highly sought after at the last two gatherings that I brought them to. A few friends mentioned that it reminded them of their childhood, when their mothers or grandmothers used to make them these desserts. Did you know that this two layered agar was made from one mixture? That's right, I did not create two separate layers – the layers separated on their own after cooling. That's why this dessert is perfect – it's a nostalgic crowd pleaser and it looks like you put in more work than you actually did. My friends thought that I took the time to make the agar layer by layer and were really surprised when I told them that I didn't.
The recipe is pretty straight forward, but here are some tips to get the layers to separate nicely:
1) Ensure that the gula melaka and agar mixture is boiling before you pour in the coconut milk.
2) After your pour in the coconut milk, give it a quick stir and bring it to the boil. Turn off the fire immediately. Do not over-stir or the gula melaka and coconut milk mixture will homogenise and you will get a uniform coloured agar agar (which is still tasty by the way).
3) After you pour the agar into the moulds, allow it to cool and harden at room temperature first. This gives the mixture time to separate. Do not move the containers or the layers may not be as distinct. You can chill the agar after it has set.

Gula Melaka Agar (Palm Sugar Agar)
Ingredients
160g gula melaka, cut into chunks
3 pieces of pandan leaves, tied into a bundle
750ml water
1 packet agar powder (10g - I used swallow brand agar)
250ml coconut milk (I use Heng Guan - Pasteurized Fresh Coconut Milk)
pinch of salt
Instructions
In a large pot, boil gula melaka, pandan leaves in water till gula melaka dissolves.
Remove pandan leaves and sieve the gula melaka mixture to remove any sediments.
Add agar powder and bring the mixture back to a boil. Stir to ensure the agar powder is well dissolved.
Add salt to coconut milk and stir to combine.
Pour coconut milk into boiling gula melaka agar mixture. Give it a quick stir and bring it back to a boil. Turn off the fire immediately.
Pour into moulds and allow the agar to set. As it sets, it should separate into two distinct layers.
Once set, chill agar till required. Enjoy!