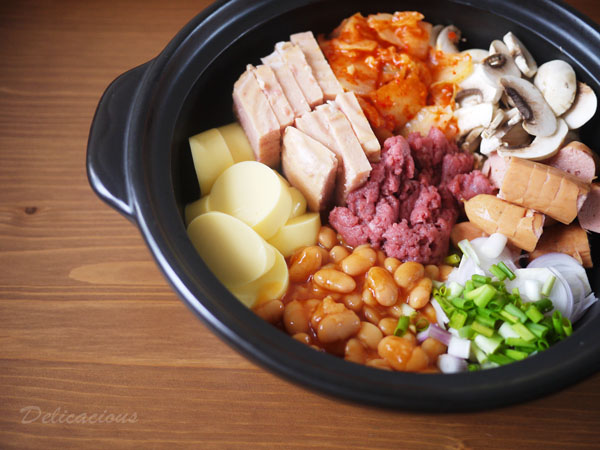 This week has been a week of gastric flu and common flu for the family. My little girl was down with a terrible bout of gastric flu and had been vomiting and having diarrhea since Tuesday. Then on Friday, my dear husband started complaining of sore throat. Not good at all. I was tired from the lack of sleep and did not feel really feel like cooking dinner. Then I recalled the delicious pictures of Korean Army Stew that a friend had posted on Facebook recently. And the whole discussion of Spam that followed those pictures – the stew contains Spam. (Are you a secret fan of Spam?) Dinner was decided – Korean Army Stew it shall be.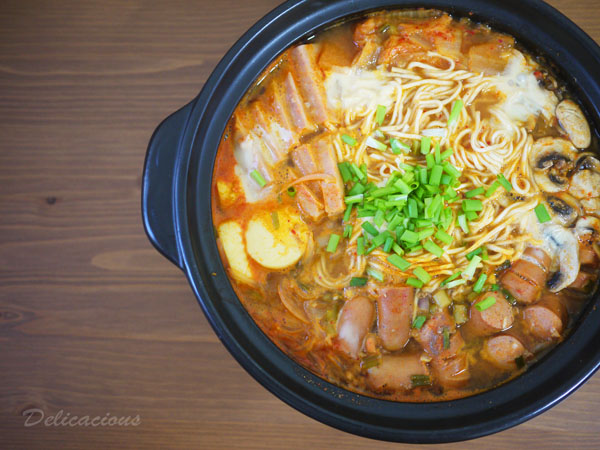 Korean Army Stew is surprisingly simple to prepare and requires no cooking skill whatsoever. The only "difficult" part is probably cutting up the ingredients for the stew. That's about it. It's quick, satisfying and SPICY. The spiciness is from the gochujang – a korean chilli soybean paste and from kimchi. Kimchi is supposedly good for sore throats so I figured that a little spice won't hurt my husband, will it?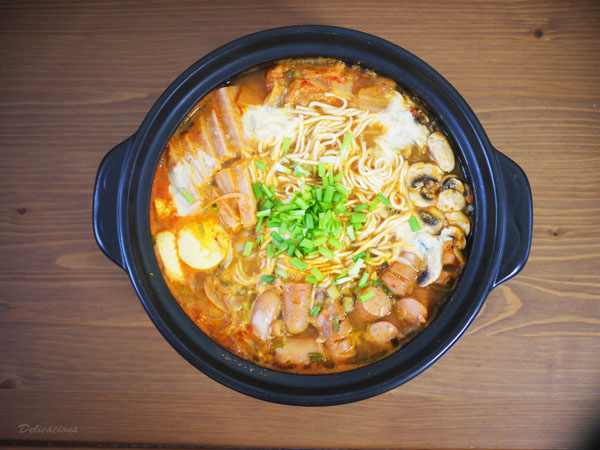 The stew surprisingly has ingredients that may be found in Western stews. Supposedly, this stew originated during the Korean War where people had little to eat and protein was scarce. People made this stew from leftover Spam and sausages from the army camps. Baked beans and cheese are commonly added to the stew too. Sounds delicious? You bet!
Korean Army Stew (Budae Jjigae)
Ingredients
Soup base
750ml low sodium chicken broth
2 tbsp gochujang (chilli soy paste)
1 tsp gochugaru (chilli powder)
1 tbsp rice wine
1 tsp sesame oil
1 tsp fish sauce
2 cloves of garlic, minced
Stew
100g minced beef
½ tin of Spam, sliced
3 sausages, cut into thirds
1 tube of egg tofu, sliced
½ onion, sliced
1 bunch of spring onions, chopped
6 button mushrooms, sliced
1 cup of kimchi
1 tin of baked beans
1 slice of cheese
1 packet of Korean instant ramen
Instructions
Bring chicken stock to boil in a medium soup pot.
Combine gochujang, gochugaru, rice wine, sesame oil, fish sauce and garlic in a small bowl.
Add soup base ingredients to the boiling stock and stir. Turn off the flame and set aside.
Arrange stew ingredients (except cheese and ramen) in a flat bottom claypot or casserole.
Add prepared soup base to the claypot and bring stew to a boil over medium heat.
Reduce heat and simmer covered for 10 minutes.
Add a packet of korean ramen (without the flavourings) to the stew.
Simmer uncovered for another 3-5 minutes.
Add cheese and simmer till cheese melts.
Serve hot with rice.
This post is shared at the following blogs.