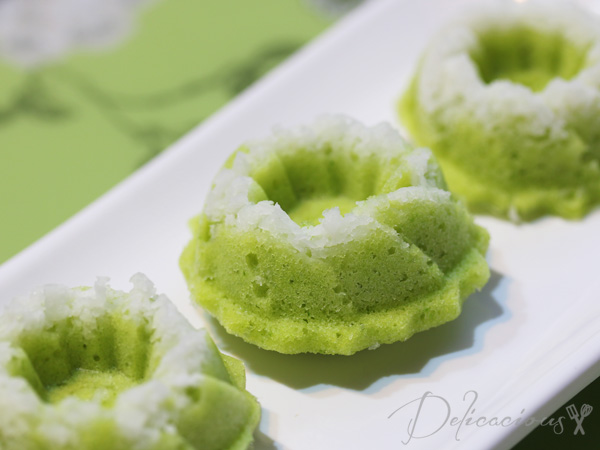 The flavour combination of pandan and coconut never fails. Just think of kaya, pandan cake, and so many other kuih kuih that uses this combination. It's almost always perfect. I found these moulds at Phoon Huat recently, and decided to try my hand at making some of these small dainty steamed cakes. Surprisingly, they are really easy to make! My little one prefers the cake without the coconut, but I like the sweet and slightly salty touch that the shredded coconut adds. If you have the time, use freshly squeezed coconut milk and grated coconut for that extra fragrant touch.

Steamed pandan coconut cakes (Kuih Putri Ayu)
Ingredients
120 ml coconut milk
10 pandan leaves, cut into small pieces
2 eggs
80g granulated sugar
150g plain flour
1½ tsp baking powder
¼ tsp salt
50g shredded coconut
pinch of salt
1 tsp corn flour
Instructions
Grease cake moulds with a small amount of oil.
Blend pandan leaves with coconut milk. Sieve to obtain pandan milk. Measure out 120ml and set aside.
In the bowl of a standing mixer (or with a hand mixer), whisk eggs with sugar till thick and foamy.
In a separate bowl, whisk together flour, baking powder and salt. Set aside.
Add 120ml of pandan coconut milk to the egg/sugar mixture and mix on low speed.
Add in flour in two to three portions and mix on low speed till combined. Do not overmix or the batter will deflate.
Mix shredded coconut, salt and corn flour together.
Add a small portion to each mould and press to flatten. (I simply place another mould over it to compress the coconut).
Fill the moulds with batter till it is almost full.
Steam over high heat for 15 minutes.
Remove and cool slightly on a cooling rack before serving.