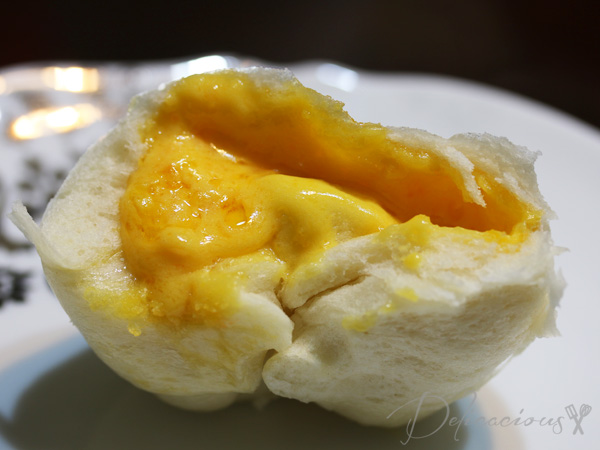 The person who created salted egg custard buns or Liu Sha Bao is a genius. Pure genius. Sweet yet savory fluid custard. Definitely one of my favourite dim sum items, and of those foods where I think that the calories are worth spending on. I had never quite thought of trying to make Liu Sha Bao at home as it did seem rather complicated. How does one wrap fluid custard in dough? Well, it so happened that I had a couple of extra salted eggs sitting around (extras from mooncake making) and so I decided to experiment. I read up a couple of recipes from books and the internet and settled on a combination of a few recipes plus some gut feel.
The best tip I found was from Bake for Happy Kids. She recommended keeping the custard filling in the fridge overnight (several hours will suffice actually) so that it hardens and that would make it easier to wrap it in dough. Why didn't I think of that? For the dough, I used an oil based dough (read: no shortening). It's a little more chewy than the shortening based dough, but it contrasts pretty well against the fluid custard. However, I realised that oil based dough doesn't keep as well the next day – when the buns are reheated the next day, they become slightly tougher. If the buns are consumed the day they are made, I would recommend using the oil based dough. Otherwise, for a softer bun, you can use the dough in this recipe. It uses shortening, but I've just found out that Crisco shortening does not contain trans-fats! Now I can use shortening without guilt.
Ready to try your hand at making some LSB? Here's the recipe!

Salted egg custard buns (Liu Sha Bao)
Ingredients
Salted Egg Custard
5 salted egg yolks, steamed
60g unsalted butter, room temperature
40g icing sugar
30g custard powder
45g milk powder
5g corn flour
30ml fresh milk
Dough
300g hongkong flour
½ tsp active yeast
½ tsp baking powder
20g sugar
15ml vegetable oil
140-150ml warm water
Instructions
Salted yolk custard filling
Mash steamed salted yolks with a fork into fine bits.
Using a wooden spoon, cream butter and icing sugar till light and creamy.
Add in the rest of the ingredients, including the salted egg and mix till smooth.
Cover with cling wrap and refrigerate till firm.
Dough
In the bowl of a standing mixer fitted with a dough hook, mix all the dry ingredients together.
Mix oil with water and with the mixer on at low, add in the water mixture in a slow stream.
Knead for about 5 minutes, or until dough is smooth and elastic.
Shape dough into a ball and place inside an oiled bowl. Cover with cling wrap and allow dough to rise for about an hour, or until double its original size.
Remove dough from bowl and shape dough into a log. Divide into 12 equal pieces.
Divide custard filling into 12 balls (I use a metal spoon for this).
Flatten each piece of dough into a disc, place the filling inside and seal dough around the filling. Place bun, sealed side down, on a small piece of waxed baking paper. Alternatively, you can place the bun in small foil liners.
Allow buns to rest for 15 minutes.
Steam over medium heat for 8-10 minutes. Enjoy hot.
If storing, cool them down to room temperature before storing them in the refrigerator. Re-steam before consuming.
Notes
Adapted from Bake for Happy Kids and Chef Chan Dim Sum book