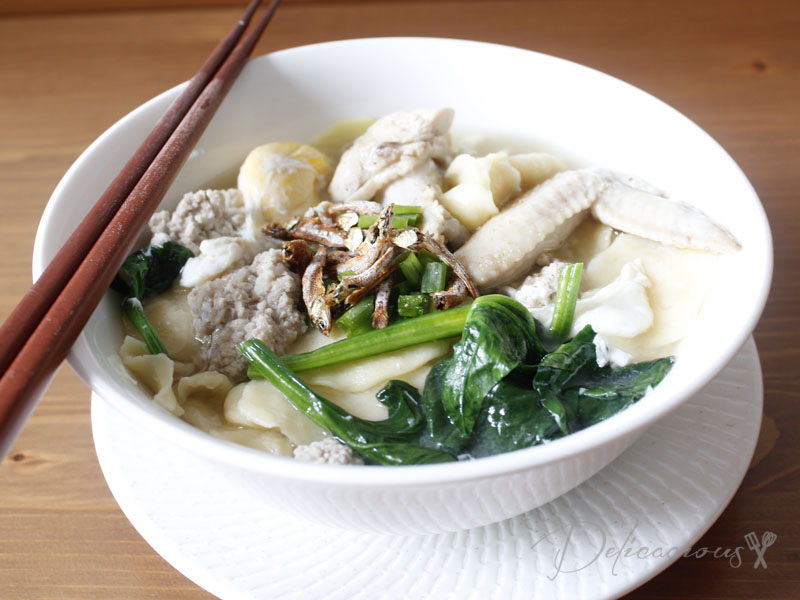 When does one crave for a bowl of piping hot mee hoon kueh? On cold days, I'd say, or when one is sick. The latter is what has been happening lately. The whole family has been down and out. I've had it really bad – I'm down with my second bout of flu in two weeks. I caught the first bout of flu from my little one, and the second bout from goodness knows where. Office perhaps. While my little one is up and bouncing even though she's sick, I just want to bury myself under the covers and sleep (which is, by the way, what I've been doing almost the whole day.)
So one sickly day, I decided that I would definitely feel better if I had some mee hoon kueh. It would be easy enough to pop down to the coffee shop and buy a bowl, but since I had to feed the sick bub and the not-so-sick husband, I figured I might as well make some. Mee Hoon Kueh brings back memories from my childhood. When I was young, my grandma used to make mee hoon kueh. She made hers a little differently. She would make a thick floury mixture and drop spoons of batter into boiling soup. Saves one the hassle of pulling pieces of dough I guess. The texture of that mee hoon kueh is very different from what I made/is sold outside. The texture of that is somewhat fluffy on the outside and dense on the inside. Not all may like that version of mee hoon kueh.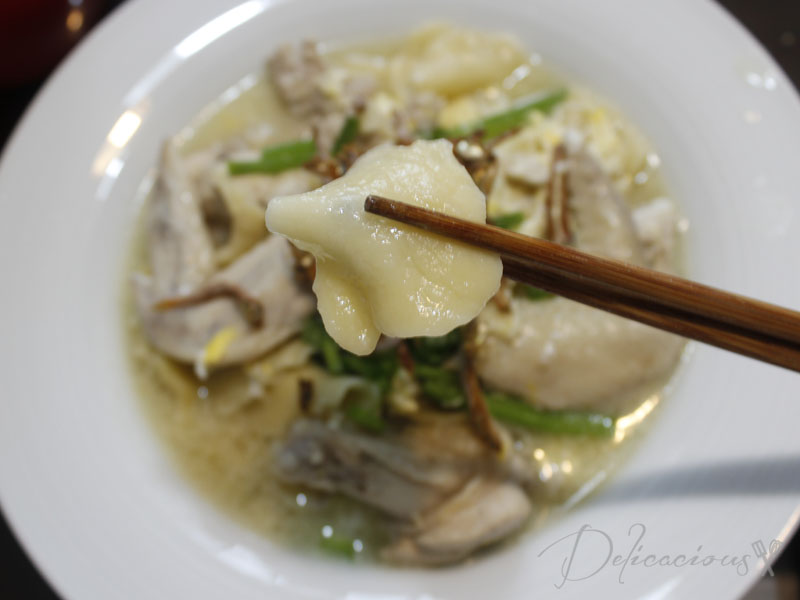 This version of mee hoon kueh requires more preparatory work. The dough, after being prepared, requires 1 hour of resting time. Before cooking, the dough needs to be flattened and torn into thin pieces. I enlisted the help of my little one for this. Unfortunately, she grew bored of this task quickly and preferred to stick all the prepared pieces of mee hoon kueh back into the ball of dough. The work paid off when I saw my husband and little one happily tucking into their bowls of piping hot mee hoon kueh.
Mee Hoon Kueh (Homemade Pulled Noodles)
Ingredients
Dough for mee hoon kueh
250g all purpose flour
100ml water
1 egg (lightly beaten)
1 tbsp oil
1tsp salt
Soup
100g ikan bilis (anchovy), washed and cleaned
2 litre water
150g minced pork
1 tsp corn flour
¼ tsp sesame oil
1 tsp soy sauce
white pepper
3 chicken wings, segmented (optional)
egg
2 cups leafy vegetables (e.g. chinese spinach, chye sim)
Garnishing
100g ikan bilis (anchovy), oven toasted till golden brown and crisp
Spring onions, chopped
Instructions
Mee Hoon Kueh
Combine flour and salt in a large mixing bowl.
Combine water, egg and oil in a large measuring cup.
Make a well in the flour mixture and pour the liquid ingredients into the well.
Use a wooden spoon and mix till well combined.
Knead dough for about 5-10 minutes until dough is smooth and less sticky.
Cover bowl with cling wrap and set aside for 1 hour.
Soup base
Boil ikan bilis in water for about 45 minutes.
Strain soup and set aside.
To cook (individual portions)
Heat some soup base in a small pot. Add a chicken wing and some minced pork (shaped into rounds).
Tear off flat pieces of mee hoon kueh dough and drop it into the boiling soup.
Add egg and vegetables and allow to boil for a few minutes.
Season to taste with salt and pepper.
Garnish with spring onions and ikan bilis.
Serve hot.