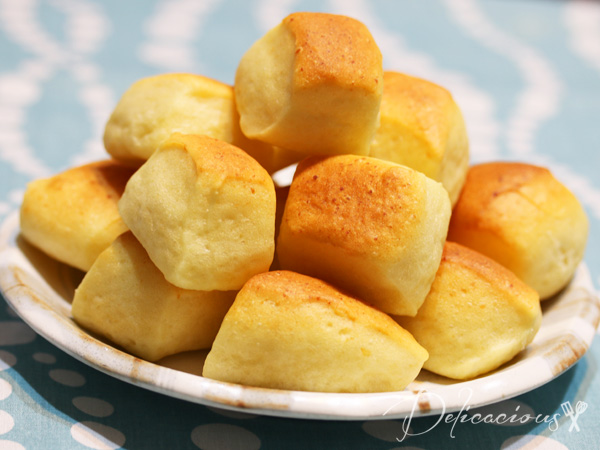 As a fussy mom who's very particular about the food that my children eat, I prepare most of their breakfasts at home. It's not often easy though, since my 4 year old and 1 year old have rather different tastes when it comes to food! Thankfully, they both enjoy this cheese bread, the older one especially. She recently succumbed to a nasty virus and had many days of high fever. This was one of her first requests, together with mushroom soup. She loves dipping the bread in mushroom soup. Kind of like soft croutons maybe?
I first saw this recipe online, and thereafter experimented with a few variations, including adding sour cream to the dough! This variation is what works best for me, taste and texture wise. Try it! I'm sure it would be a hit both with young and old!
Mini Cheese Bread
Ingredients
80 ml milk
1 egg
30g granulated sugar
¼ tsp salt
200 g bread flour
30g grated parmesan cheese
30g unsalted butter, cut into cubes
½ tsp instant yeast
Instructions
Place the first six ingredients into your bread machine, according to your machine's instructions.
Add the cold butter cubes at the side of the pan.
Make a well at the top of the flour mixture and add the instant yeast. (Make sure the yeast does not touch the salt)
Set the bread machine to the dough function.
When the dough is ready, remove it from the pan, press it down slightly into a disc and allow it to rest on a clean surface for 5-10 minutes.
Using a rolling pin, roll the dough out into a square that's about 1 cm thick.
Cut into cubes approximately 2cm by 2cm.
Arrange the cubes on a baking tray lined with baking paper or a silicon mat and spray some water on top of the cubes.
Cover loosely with cling wrap and allow it to rise till it doubles in size, about 30-45 minutes.
minutes before baking, preheat the oven to 170°C and centre an oven rack.
Bake for 10-12 minutes, or until the tops are golden brown.
Cool slightly on a cooling rack. Enjoy!
Notes
Recipe adapted from http://my123favourites.blogspot.sg/2013/10/mini-cheese-bread.html