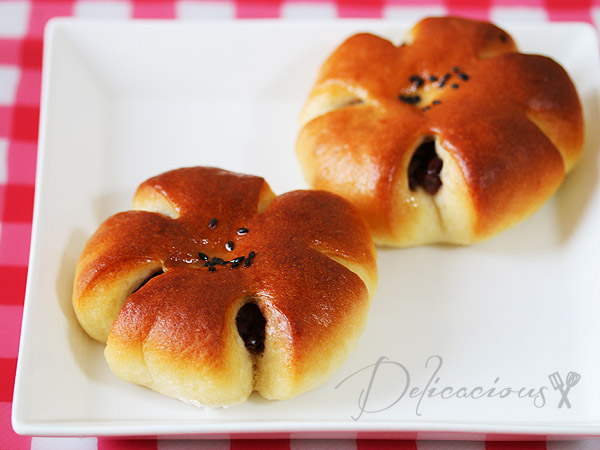 In what may be the last of the breakfast series posts (for now), I'm happy to introduce you to my latest favourite bake – Red Bean Anpan Buns. I've made these in pretty flower shapes, and also as plain round buns. Either way, they are delicious and the smell of freshly baked anpan buns wafting from the oven will definitely make you want to eat these up, almost straight out of the oven. I had to practice self-control and reserve them for breakfast the next day! The bread dough can be prepared using a breadmaker with a dough setting function (the easier way) or using a standing mixer with a dough hook.
The buns will taste best with homemade anko (sweet red bean paste made with azuki red beans). If you don't have the time to make your own, you can replace with store bought red bean paste. For a simple method on preparing the red bean paste, please refer to my post here.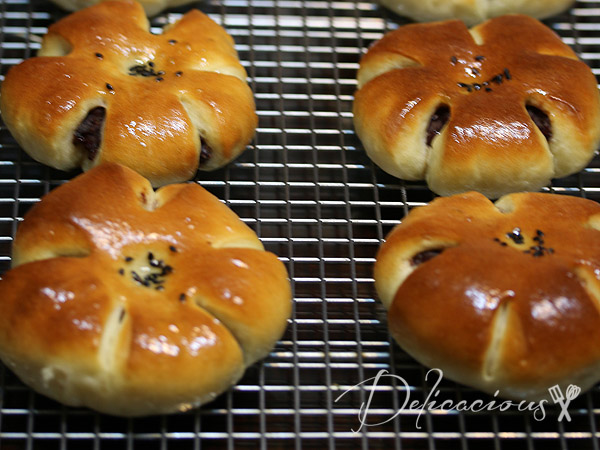 Breakfast series - Red Bean Anpan Buns
Ingredients
Dough
½ cup + 1 tbsp milk
1 egg
2⅓ cup bread flour
2 tbsp caster sugar
½ tsp salt
0.5 oz butter, softened
1 tsp active dry yeast
Filling and topping
9 oz of red bean paste, divided into 9 balls
1 tbsp melted butter/vegetable oil
black sesame seeds
Instructions
Using a breadmaker
Add ingredients into the breadmaker pan following instructions on your breadmaker for dough setting.
When dough is ready, remove dough from pan and divide it into 9 equal sized balls.
Allow the dough balls to rest covered for 15 minutes.
Gently flatten dough balls and place the red bean filling in the centre. Carefully fold dough over to enclose the red bean paste. Shape into a ball and lightly flatten it. Using your finger, make a slight indentation in the centre of each flattened ball.
Use a pair of kitchen scissors to cut 5 deep cuts around the flattened ball to make a floral shape (optional).
Preheat oven to 190°C.
Set aside on a non-stick baking sheet, covered, for about 15 minutes.
When the buns have almost doubled in size, bake them in the centre rack of the preheated oven for 15 minutes.
Once buns are golden brown, remove them from the oven and brush them with melted butter. This gives the buns a nice shiny golden colour. Sprinkle sesame seeds on top.
Cool buns on a wire rack.
Using a standing mixer with dough hook
Mix milk, egg, flour, salt and sugar together in the bowl of a standing mixer.
Add the soften butter and knead for 8 - 10 minutes using a dough hook. The dough is ready when it is smooth and elastic.
Transfer dough to a clean bowl. Cover with plastic wrap and allow to rise in a warm place till it doubles in size.
Divide dough into 9 pieces.
Follow the rest of the instructions from the breadmaker portion on shaping the dough.