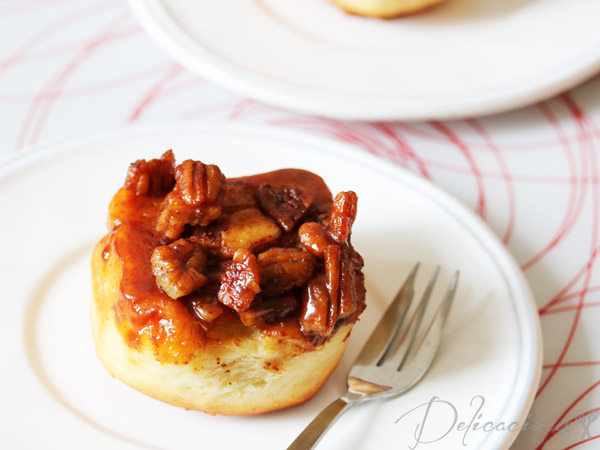 In my humble opinion, salted caramel is one of the baking world's best discovery. I cannot remember when I first tasted it but it was definitely love at first taste. The best part is that it can be used in sooo many desserts! I made a batch of salted caramel using the recipe from Brown Eye Baker and used a portion of it to make salted caramel buttercream to frost some cupcakes. The cupcakes were for my baby's first month celebrations. Those were delicious and I would love to blog about them except that I gave them all away without taking a picture. Silly me. So now I would need to find another excuse to bake up another batch of salted caramel cupcakes so that I can eat blog about them.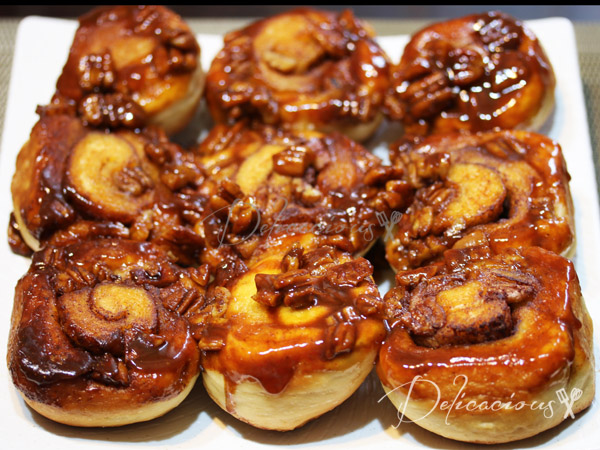 After making the cupcakes, I had leftover caramel left in the fridge and was thinking of what to do with them. I love sticky buns and since sticky buns typically use caramel, why not replace it with salted caramel? The buns, fresh out of the oven tasted amazing. My 3 year old happily ate them for breakfast (and getting her to eat breakfast is usually rather challenging). I used my trusty bread-maker to prepare the dough so that I could get other things done, and as all mothers know, there are alot of things to be done, but you can definitely use your standing mixer with a dough hook or if you feel like a workout, your hands to knead the dough. Ready for the recipe? Here it goes!

Salted Caramel Pecan Sticky Buns
Ingredients
Dough
200 ml milk
1 tsp vanilla extract
30g unsalted butter, cut into pieces
2 cups plain flour
2 tbsp sugar
½ tsp salt
1¼ tsp active dry yeast
Cinnamon filling
½ cup brown sugar
2 tsp ground cinnamon
55g unsalted butter, at room temperature
To assemble
½ cup salted caramel (See notes for recipe link)
½ cup pecan halves (or quarters)
Instructions
Place ingredients for dough in the breadmaker pan according to the manufacturer's instructions. Program for the dough cycle. OR
If making dough using a stand mixer with a dough hook, combine milk (at room temperature), yeast and sugar in the bowl of the standing mixer and allow it to stand till it foams.
Add in vanilla extract, flour and salt and knead for 2-3 minutes. Add butter (at room temperature) and knead till dough is smooth and springy. Place dough in a clean bowl covered with a damp towel and allow dough to double in size. Punch down gently.
While waiting for the dough to rise, combine sugar and cinnamon in a small bowl and set it aside.
Prepare the salted caramel (or use your favourite store-bought one). Pour the salted caramel over the bottom of a 9-9 inch glass or metal square baking pan (you can use a round one if you prefer). Scatter pecans over the caramel. Set aside.
When the dough is ready, turn it out onto a lightly floured surface and roll it into a 10 by 12 inch rectangle.
Leave a 1-inch border around all the edges of the dough and spread the surface evenly with the butter. Sprinkle evenly with the sugar and cinnamon and roll it up starting from the long edge. Pinch to seal the edges and face the sealed side down.
Cut the roll into 9 equal pieces using a serrated knife. Place slices, cut side down on top of the caramel.
Cover the rolls loosely with cling wrap and allow it to rise till double in size.
Alternatively, cover tightly with plastic wrap and place rolls in the fridge to rise overnight. Remove rolls from the fridge 15 minutes before baking.
While rolls are rising, preheat oven to 175°C.
Bake rolls for 30 minutes, till they are golden brown on top. Remove from oven and allow it to stand for 3 - 5 minutes before inverting it onto a cooling rack. Allow it to cool for 15 minutes before transferring it to a serving plate.
Pull buns apart and tuck in!
Notes
Recipe adapted from "The bread loer's bread machine cookbook"
Salted caramel recipe: http://www.browneyedbaker.com/homemade-salted-caramel-sauce-recipe/