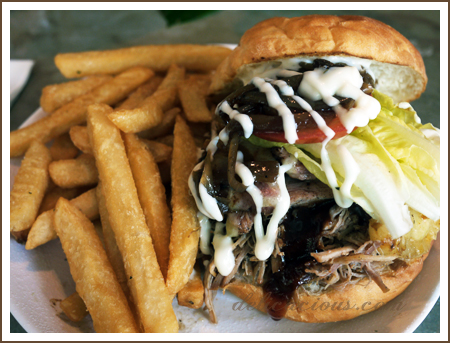 Food for thought has become one of our favourite places to bring our baby girl to. Besides supporting a good cause, affordable lunches, the plus point about it is that it has an outdoor play area for children to toddle around. It is also situated at Botanical gardens – perfect for a meal after a morning walk.
We have tried their breakfasts before – their pancakes are lovely and their mee rebus is decent, but most other things are well, slightly overpriced for the serving size. Their burgers (served after 11am) are a pretty good deal though. They cost between $8 to $12, fries served separately. They are rather generous with their serving of fries so we only ordered one serving of fries to share between the two of us. The burger pictured above is the pulled pork and ham burger with BBQ and mayo dressing. It is definitely one of my guilty indulgences of the week but it was worth the calories. I love the softness of the homemade potato bun as well!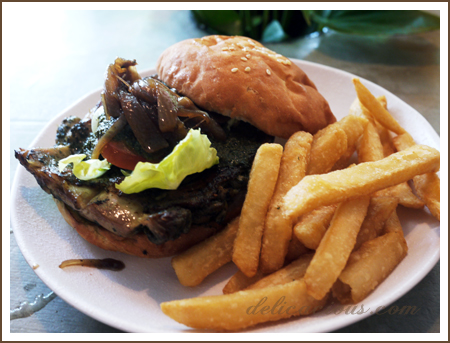 My husband had the chicken pesto burger. The pesto was absolutely flavourful and complemented the chicken well. I was only allowed one bite and my husband devoured the rest himself.
Food For Thought
1 Cluny Road, Singapore Botanic Gardens,
#B1-00, S259569