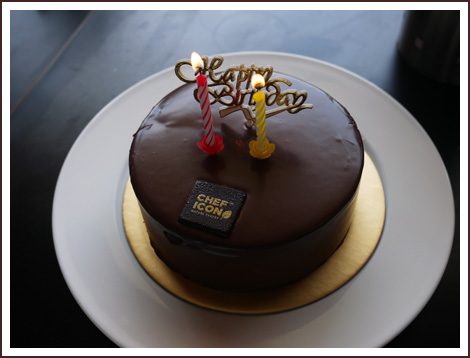 I stumbled upon this bakery through an advertisement I saw on facebook. Chef Icon Bakery prides itself in being a nature bakery – they use no artificial ingredients or artificial fats. Seems like a perfect place to shop for a birthday cake for my daughter.
I went there in the afternoon with my husband to shop for a birthday cake and was promptly recommended their signature Chocolate Trovana. The signature cake comes in sizes of 500g, 1kg and 2kg and prior ordering is required. Looking at the array of cakes, we decided to stop for tea too.
Chef Francis was very friendly and recommended that we tried one of his cheesecakes if we liked cheesecakes. He promised that his cheesecakes were very different, and different they were. Even the cookies for the oreo cheesecake base were baked in the shop. His reason? Commercial oreo cookies contained preservatives. Such dedication to his nature baking concept indeed!
We finally decided to try the mango cheesecake and we were definitely not disappointed. The cheesecake was very light, unlike other baked cheesecakes that I've tried. Despite it's lightness, the cake definitely did not lose its flavour. The mango fragrance permeated the cake; every bite was a delight. We were so busy eating the cake that we forgot to take a nice photo of it! Alas, there's always a chance for visit two.
Now, back to the Chocolate Trovana cake we ordered. The verdict is found below.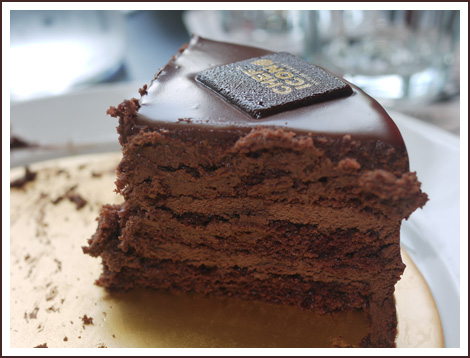 The layers of chocolate mousse and chocolate cake together with the rich chocolate ganache formed a heavenly combination. The cake was velvety smooth and very rich in chocolate flavour. Thankful that I only bought the 500g cake as a small slice goes a long way. This cake is highly recommended. Possibly the best chocolate cake I've tasted in a long while.
So where can you find Chef Icon?
Chef Icon Bakery
5 Kampong Bahru Rd
Singapore 169341
Phone: +65 9337 3900Mon – Sat: 8am to 8pm