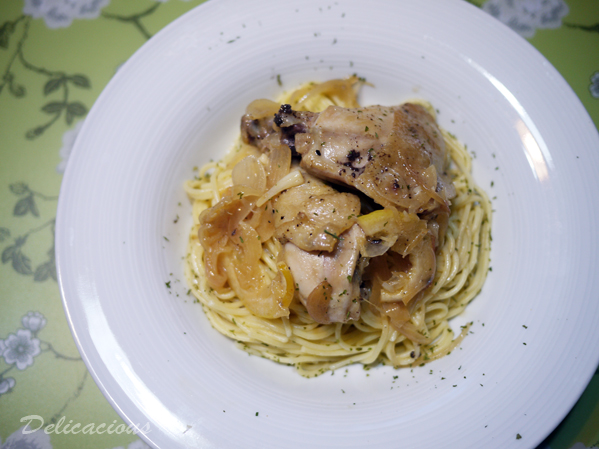 Ain't I back to be back blogging again after a week long hiatus thanks to a bout of sickness in the family. Have I mentioned before that I hate the flu bug? If not, I will say it again. I HATE THE FLU BUG. This time round, my poor little girl was down with 6 days of high fever, cough, no appetite and yeah, you get the picture. Unfortunately, I succumbed too. Well, at least both my girl and I could sulk in bed together.
Well, most people know that a good dose of Vitamin C helps to boost immunity. Tangy foods tend to whet the appetite. You know where this is heading? That's right. Lemons. I love lemons – they are perfect in cupcakes, muffins, salad dressings and even savory dishes. Like this Tangy Lemon Chicken Pasta. It's quick, fuss-free, delicious and adds a boost of vitamin C to your diet. Sounds good doesn't it?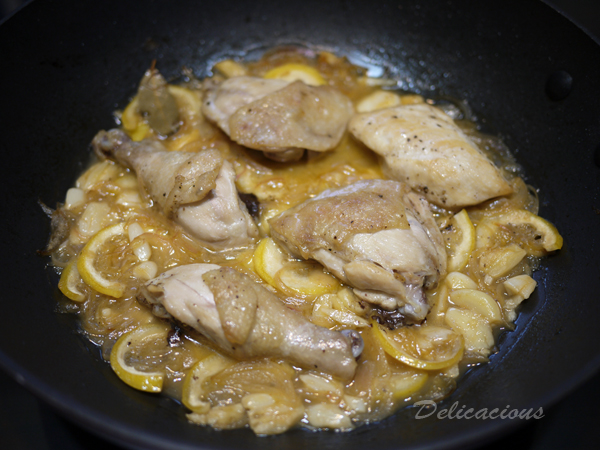 The steps to this dish are pretty straight forward. Brown the chicken, cook the onions, garlics and lemon sauce, dump the chicken back in and throw the whole pan into the oven to finish cooking. The chicken gravy serves as the sauce for the pasta so all you need to do is to get some pasta boiling while the chicken is in the oven and before you know it, dinner is served. My kind of food definitely.
Tangy Lemon Chicken Pasta
Ingredients
4 chicken thighs
½ tsp salt
½ tsp freshly ground black pepper
2 tbsp olive oil
1 cups thinly sliced onions
1 head of garlic, peeled and smashed
1 bay leaf
¼ tsp salt
4 tbsp freshly squeezed lemon juice
½ juiced lemon (left over from lemon juice), sliced thinly
¾ cups low sodium chicken broth
250g spaghetti or vermicelli
1 tsp dried parsley
1 tbsp unsalted butter
Instructions
Preheat the oven to 175°C.
Season chicken thighs with ½ tsp salt and ½ tsp ground black pepper.
Heat oil in a large oven proof skillet. Brown chicken thighs on both sides.
Remove the chicken from the pan and set aside.
Add the onions to the oil and cook for about 2-3 minutes, scraping up any bits from the chicken.
Add the garlic, ¼ tsp salt and the bay leaf and cook for a minute.
Add the lemon juice, lemon slices, chicken broth, and browned chicken thighs to the onion mixture.
Bring the mixture to a simmer, cover tightly, and place in the oven.
Bake for 20 minutes, remove the lid and cook an additional 15 minutes, or until cooked through and tender.
While the chicken is baking in the oven, cook the pasta until al dente.
Drain well and toss in a large bowl with 3 tablespoons of the parsley and the butter.
Serve chicken atop pasta and spoon the chicken gravy with onions, garlic and lemon over the pasta. Serve hot.
Notes
Adapted from foodnetwork.com
I link up at these blogs!