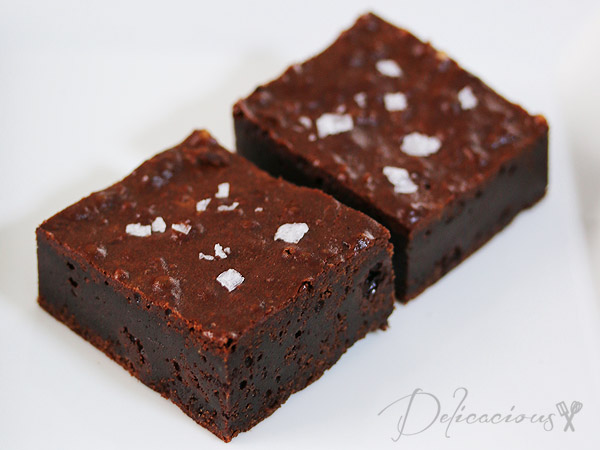 Home renovation is depressing. Even when it's just renovation of the toilets, the whole house gets messed up. One of the worse parts of renovation? I am deprived of my kitchen and my oven. I wish I could start baking with a vengeance once my renovation is over but with the baby due to arrive just a few weeks, that does not seem very likely either.
Anyway, while browsing through my food photos, I realised that I have not shared my favourite brownie recipe on the blog! These recipes are rich and fudgey and the salt on the top gives it extra crunch. I like to add some chocolate chips to the batter to give it a little extra bite but you can omit these if you prefer.
Very Chocolatey Salted Brownies
Ingredients
170g unsalted butter
60g dark chocolate chips/chunks (I use 70% dark chocolate)
45g unsweetened cocoa powder
110g plain flour
220g granulated sugar
3 eggs
1½ tsp vanilla extract
½ tsp sea salt
¼ cup semi-sweet chocolate chips (I use 55% dark chocolate) - optional
Instructions
Preheat oven to 175°C.
Line a 9-inch square baking pan with alumnium foil and coat lightly with non-stick baking spray.
Melt butter and chocolate chips over a water bath or using a microwave, stirring occasionally.
Allow butter and chocolate mixture to cool slightly.
Sift flour and cocoa powder over the chocolate mixture and whisk in till combined.
Whisk in the sugar till combined, followed by the eggs, one at a time.
Lastly, whisk in the vanilla extract and salt.
Fold in the extra chocolate chips if desired.
Pour batter into the baking pan and smooth out the top using a spatula.
Bake for 30 - 35 minutes, or until the centre is just slightly soft.
Allow to cool in the pan for an hour. Refrigerate the brownies for 1 - 1.5 hours to allow them to set completely.
Remove brownies from pan and peel off the aluminium foil.
Cut brownies into squares and sprinkle a little extra sea salt on top.
Serve at room temperature.