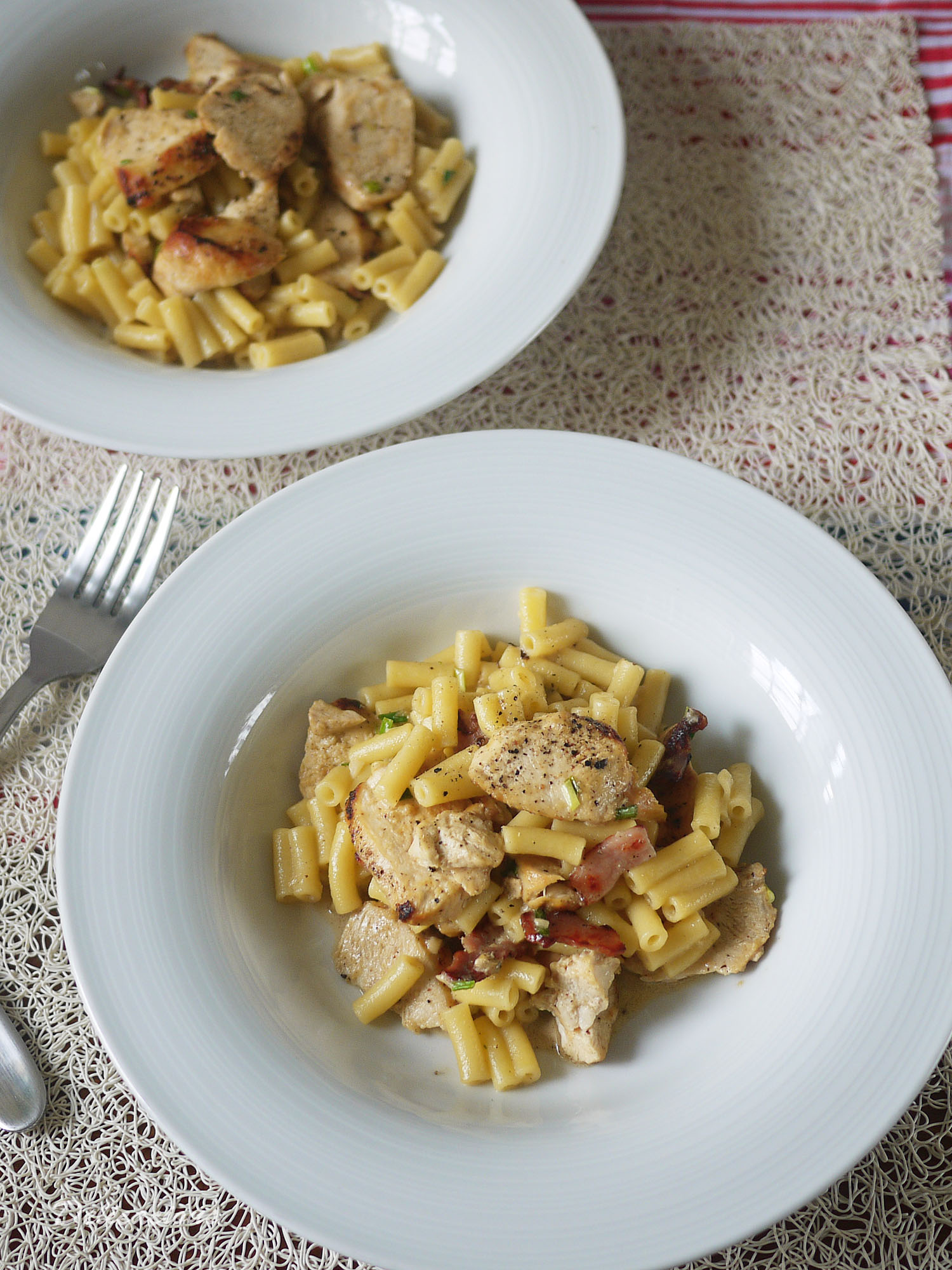 Chicken alfredo pasta is a staple that one sees at almost all pasta joints. If you walk along the pasta aisle in a supermarket, I can almost guarantee that you will find a bottle of ready-to-go alfredo sauce. In fact, many bottles of it, and different brands of it. It is THAT popular. I distinctively remember the day my mom bought a bottle of alfredo sauce and prepared pasta with it. I was young; my mom was working and didn't have much time for meal preparations. Ready-made sauces were the best bet right? Wrong…. The sauce was floury, gloopy and tasted really bad. Now, I'm sure there are better tasting alfredo sauces out there now, but that experience was enough to stop me from ever, ever, ever buying a bottle of alfredo sauce. Why would I want to do it anyway when preparing alfredo sauce is so simple and quick?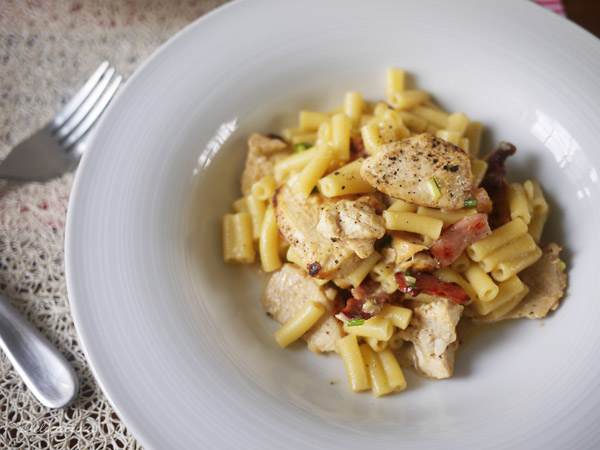 Enter BACON. I've prepared chicken alfredo pasta before, but I've never added bacon to it. Apparently I've been missing out for a long time. Thankfully, I so happen to have some bacon left in the fridge and hence decided to add it in. I'm pretty sure I'll never prepare chicken alfredo pasta without bacon again. After all, bacon pretty much makes all things taste better. Doesn't it?
So there you go. Reasons why you should make your own alfredo pasta AND add bacon to it. This pasta made my little one and husband very happy. Why, the little one, who's becoming a little picky with her food lately, wolfed down her pasta!
Bacon and Chicken Alfredo Pasta
Ingredients
6 ounces dried macaroni
2 slices of back bacon, cut into short strips
1 tbsp unsalted butter
3 tbsp olive oil
1 whole chicken breast, halved with bone removed
2 cloves of garlic, minced
½ cup low sodium chicken broth
½ cup milk
¾ cup grated parmesan cheese
2 stalks of scallions, chopped
salt and black pepper
Instructions
Cook macaroni in plenty of salted water according to the package instructions. Drain and set aside.
In a skillet over medium high heat, brown the strips of bacon. Set aside.
Season chicken breast with salt and black pepper.
Add butter and 1 tbsp olive oil to the skillet.
Add chicken to skillet and cook till brown on both sides, about 3-4 minutes per side.
Set aside to cool slightly before slicing into strips.
Add remaining olive oil to the skillet. Cook garlic for about a minute, and pour in chicken broth. Allow broth to reduce for a minute or two.
Pour in milk, stir well and allow it to simmer on low heat for three to four minutes.
Toss in bacon, chicken strips and macaroni and stir to combine.
Allow mixture to heat through and season with salt and pepper.
Remove skillet from the heat and toss in chopped scallions.
Serve hot.
I'm sharing this post at some of these blogs here.