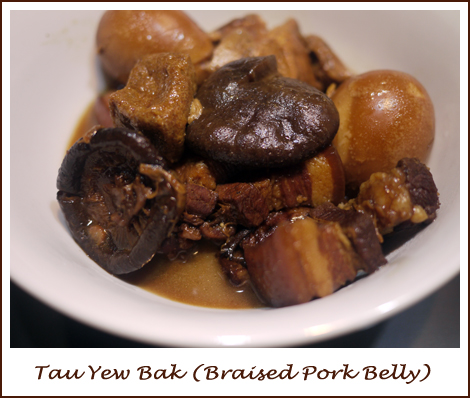 Alas, after multiple attempts to post the recipe, this post is finally successful. It must be some bug in the recipe widget that does not like pork belly! Anyhow, this is one of my comfort foods – salty, fragrant, garlicky, fatty goodness. I cut down the fatty portion by not eating the layers of fat, and only eating the meat. My husband chastised me on this every so often. He declares that the fatty portion of the braised pork belly is the best portion! I'm sure many readers will agree.
Whether or not you eat the fatty part of the pork belly, this recipe is sure to please. My toddler loves the egg and tau kwa that goes into this! The pork belly is soft and tender, as a result of the braising process. Absolutely delicious. If you wish to reduce the calorie intake of this dish, replace the pork belly with pork shoulder. For non-pork eating friends, you can replace the pork belly with chicken too!
As I am typing, this dish is cooking in the kitchen. My mom's version though, not mine. My mom adds chilli to this dish to add some heat and more star anise and cloves than I like. She sometimes uses the packet ingredients for Tau Yew Bak too. I'm partial to my version though. Try it and let me know!
Tau Yew Bak

Print recipe
Ingredients
600g Pork Belly (Sliced)
8 Dried Chinese mushrooms (Soaked and stalks removed)
5 cloves Garlic (Lightly pounded)
1 piece Tau Kwa (firm tofu) (Cut into large cubes)
10 small tofu puffs (Tau Pok)
6 hard boiled eggs (Peeled)
3 tablespoons dark soya sauce
3 tablespoons light soya sauce
1/2 teaspoon ground white pepper
1 teaspoon sugar
2 star anise
6 cloves
1 stick cinnamon
800ml water
Directions
Step 1
Season pork belly with 1 tbsp of dark soya and light soya sauce. Leave meat to marinate for 30 minutes.
Step 2
In a large claypot or casserole, lightly brown pork belly. (No oil is needed)
Step 3
Add garlic and mushrooms and stir to combine. Cook for 3 minutes.
Step 4
Add tau kwa, remaining dark and light soya sauces, sugar and pepper. Mix well and allow to cook for another 5 minutes.
Step 5
Add in star anise, cloves, cinnamon and water and bring to a boil.
Step 6
Allow to boil for 5 minutes then add tau pok and reduce to a simmer for 20 minutes.
Step 7
Add hard boiled eggs and simmer for another 40 minutes or until meat is tender.
Step 8
Serve hot with rice.