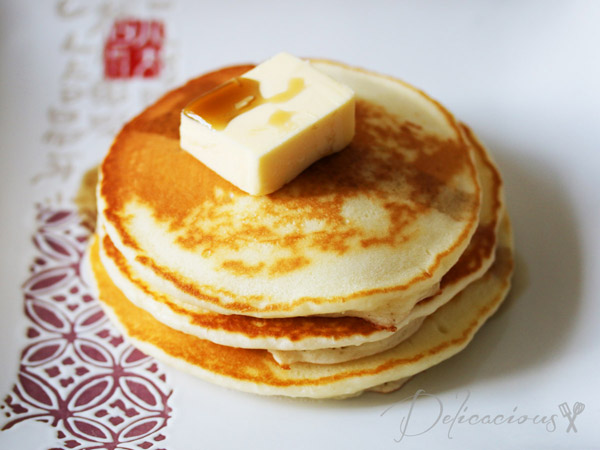 What's the difference between japanese Hot Cakes and our usual pancakes? Well, japanese hot cakes are thicker and sweeter. They are very popular, and many use the Morinaga hot cake mix. Delicious though they are, they can be a little hard on the pocket, especially if you have many mouths to feed. Some time back, I came across a recipe on a japanese sweets website. As the instructions were all in japanese (and google translate was not very accurate), I had to fiddle around with it before getting it right. I also changed the ingredients slightly. The method for preparing the hot cakes is also slightly different from preparing pancakes. If you follow the instructions though, you should be able to get thick delicious hot cakes! It's definitely cheaper than using the Morinaga hot cake mix too!
Breakfast series - Japanese Hot Cakes
Ingredients
1 egg
40g caster sugar
A pinch of salt
110g milk
40g sour cream
20g unsalted butter, softened
140g cake flour, sifted
1½ tsp baking powder
1 tsp vanilla extract
Instructions
Whisk egg with sugar and salt till pale and thick.
In a separate bowl or measuring jug, combine the milk, sour cream and butter.
Add the milk mixture to the egg and sugar mixture and whisk to combine.
Add the flour and baking powder to the wet ingredients in three parts. Fold in gently with the whisk. The mixture will be thick.
Set mixture aside for about 10 minutes.
Meanwhile, set aside a damp cloth and heat a griddle pan or cast iron pan over medium heat.
Add a little oil (not too much) and spread evenly over the surface of the pan.
Before cooking the hot cakes, place the pan on the damp cloth to cool the pan down slightly.
Scoop ¼ cup of hot cake batter and pour it onto the pan from a height of about 25 cm.
When bubbles form, flip the hot cake over and cover the pan for 1 - 2 minutes. Remove hot cake and repeat with the remaining batter.
Serve hot, with butter and maple syrup.