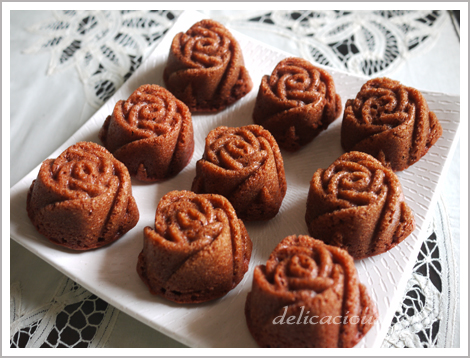 My rose bundt pan finally arrived in the mail and I simply had to make something with it. Since I had leftover buttermilk, I decided to try making red velvet cakes. Yes, RED velvet cakes. How did they end up brown then? Simply when you don't add enough red food colouring, which was what happened. Sigh, the problem with gel food colourings and liquid food colourings is that you don't quite know how much to substitute each for when the recipe calls for one or the other. Estimation does not always yield the best results. Oh well, the next time I try this again, I would know better.
I decided to do a slight twist to the basic red velvet recipe by adding coffee extract, since coffee typically complements chocolate. I think it tastes pretty good, but I will definitely up the amount of coffee extract the next time I redo this. The adapted recipe below shows my recommended dose of coffee extract.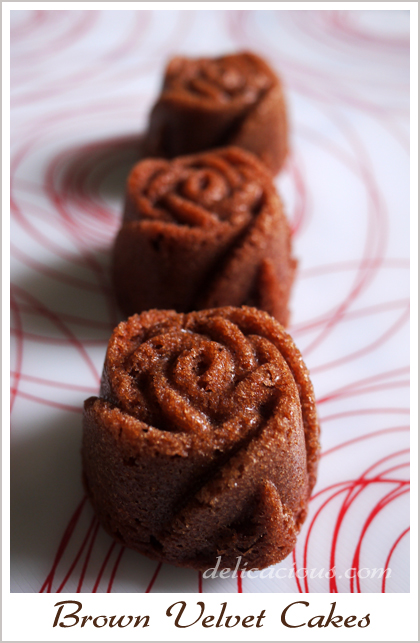 So how does red velvet taste like? It is not overwhelmingly chocolaty but the texture is fantastic – moist and dense. People typically serve this with a cream cheese topping but I was lazy and decided to serve it plain. My friends did not complain so I guess it's good enough to be eaten on its own too.

Brown Velvet Rose Cakes
Brown velvet rose cakes are the result of a traditional red velvet cake made without the red colouring. It tastes every bit as good though!
Ingredients
1¼ cup canola oil
1 cup buttermilk
2 eggs at room temperature
2 tbsp liquid food colouring
1 tsp white wine vinegar
1 tsp vanilla extract
2 tbsp coffee extract
2½ cup all-purpose flour
1¼ cup sugar
1 tsp baking soda
¾ tsp fine salt
1 tbsp cocoa powder
Instructions
Preheat oven to 350ºF with a rack centered in the middle.
Using a standing mixer, combine oil, buttermilk, eggs, food colouring, vinegar, vanilla and coffee extract. Beat on medium speed for 1 minute.
In a medium bowl sift together flour, baking soda, salt, cocoa powder and sugar.
With the mixer on low, add dry ingredients to the batter ½ cup at a time. Add slowly so that the mixture does not form lumps.
Lightly grease the pan and pour batter into each cavity till they are ⅔ full.
Bake until inserted toothpick comes out clean, about 20 minutes.
If frosting, cool completely first.