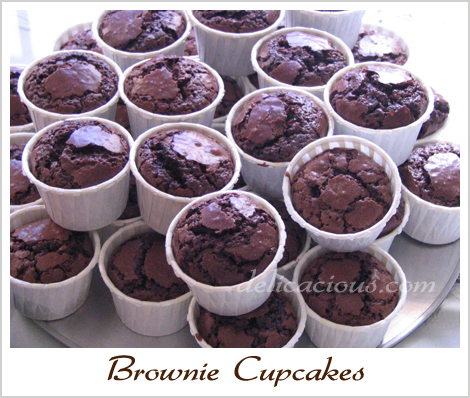 I baked these some time ago for a gathering of students at my place. If you are a chocolate fan, these brownie cupcakes will be straight down your alley. Sinfully rich and chocolaty, they are bound to fix your chocolate craving. The best part? They are not difficult to make at all! The ingredients are simple, but the sheer quantity of butter, sugar and eggs may shock you. Well, they are for a large batch of cupcakes afterall, and didn't I say earlier that these were sinful?
Brownie Cupcakes
(Makes 60 cupcakes)
Recipe adapted from Gourmet, Dec 1999
Ingredients:
16 oz unsalted butter, cut into cubes
8 oz bittersweet chocolate (I use Valrhona equatorial)
1 3/4 cups all purpose flour
1/2 cup unsweetened cocoa powder
1/4 tsp salt
3 1/4 cups sugar
8 large eggs
Method:
Preheat oven to 350ºF. Line muffin tray with liners.
Melt butter and chocolate in a heavy saucepan over moderately low heat, stirring till smooth.
In a separate bowl, whisk together flour, salt and cocoa powder.
Remove saucepan from heat and whisk in sugar.
Add eggs, 1 at a time, whisking after each addition until incorporated.
Lastly, fold in flour mixture until just blended.
Spoon batter into muffin liners, filling the liner almost to the top. Bake for 25 – 30 mins. A skewer inserted will have some crumbs adhered when the cupcakes are done.
Cool for 5 minutes in tins and remove to cool on a rack.
Repeat with the remaining batter.
These can keep in an air-tight container for about 2 days at room temperature.