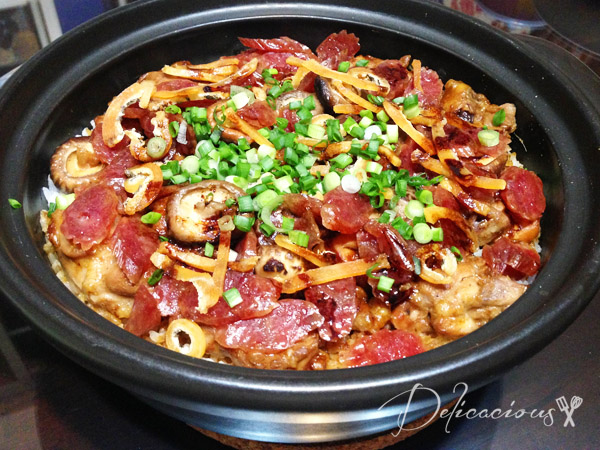 Dinner at home is typically 三菜一汤 (three dishes and one soup) on weekdays but lately, with the addition of an infant, we have been trying to simplify dinner. One dish meals seem to be the way to go and this claypot chicken rice is one of our favourite Chinese one dish meals. It uses simple ingredients, is fast to prepare (start to finish is just slightly more than an hour) and is definitely satisfying. Of course, it can't beat claypot rice that is cooked over charcoal fire but this definitely comes close. My hubby loves scraping up the slightly charred crispy rice bits at the bottom of the claypot!
Here are some tips for preparing claypot chicken rice. Firstly, cooking times with a claypot would vary with the size of claypot and the fire used. I've given guidelines that work for my claypot in my recipe but you may wish to adjust the timing after you've tried the recipe for the first time. For the claypot, I've used a Tanyu flat bottom claypot, but you can use any seasoned claypot. Noobcook has some good advice on preparing a claypot for its first use here. I've adjusted the liquid amount for this recipe so that the rice is moist but not soggy. If you prefer the rice to be drier, you may wish to reduce the liquid amount further. Lastly, whenever possible, use a low sodium chicken stock. If using chicken stock cubes/packaged chicken stock, it would be advisable to use half water and half stock as the stock is usually rather salty.
And now for the recipe…
Claypot Chicken Rice
Ingredients
Claypot chicken rice
2 chicken legs (thigh and drumstick), cut into pieces
5 chinese mushrooms, soaked and then sliced into thick pieces
2 cups of rice, washed and drained
2¼ cups low sodium chicken stock (If using packaged stock, replace half with water)
1 chinese sausage, sliced
some salted fish, sliced thinly and fried till crispy
Chicken marinade
2 tbsp light soy sauce
2 tbsp oyster sauce
1 tbsp dark soy sauce
1 tbsp Shaoxing wine
1 tbsp sesame oil
1 tsp grated ginger
1 tbsp corn flour
½ tsp pepper
½ tsp sugar
To serve
1 tbsp dark soy sauce
2 tbsp garlic oil
chopped spring onions
fried shallots
Instructions
Combine chicken pieces and mushroom with marinade and season for at least 30 minutes. Drain and set aside before cooking.
Put rice and chicken stock into a claypot, cover and bring to a boil.
Reduce heat to low fire and cook with low heat till holes are formed on top of the rice. (Approximately 15 minutes)
Spread marinated chicken and mushroom over the top of the rice. Spread chinese sausage on top of the chicken pieces. Cover claypot and cook with low heat till rice is dry and chicken pieces are cooked (another 15 minutes). Remove from fire.
Scatter salted fish on top, cover the claypot and let the rice stand for 10 minutes.
Before serving, top rice with a mixture of dark soy sauce and garlic oil, spring onions and fried shallots.
Mix well and serve. Enjoy!