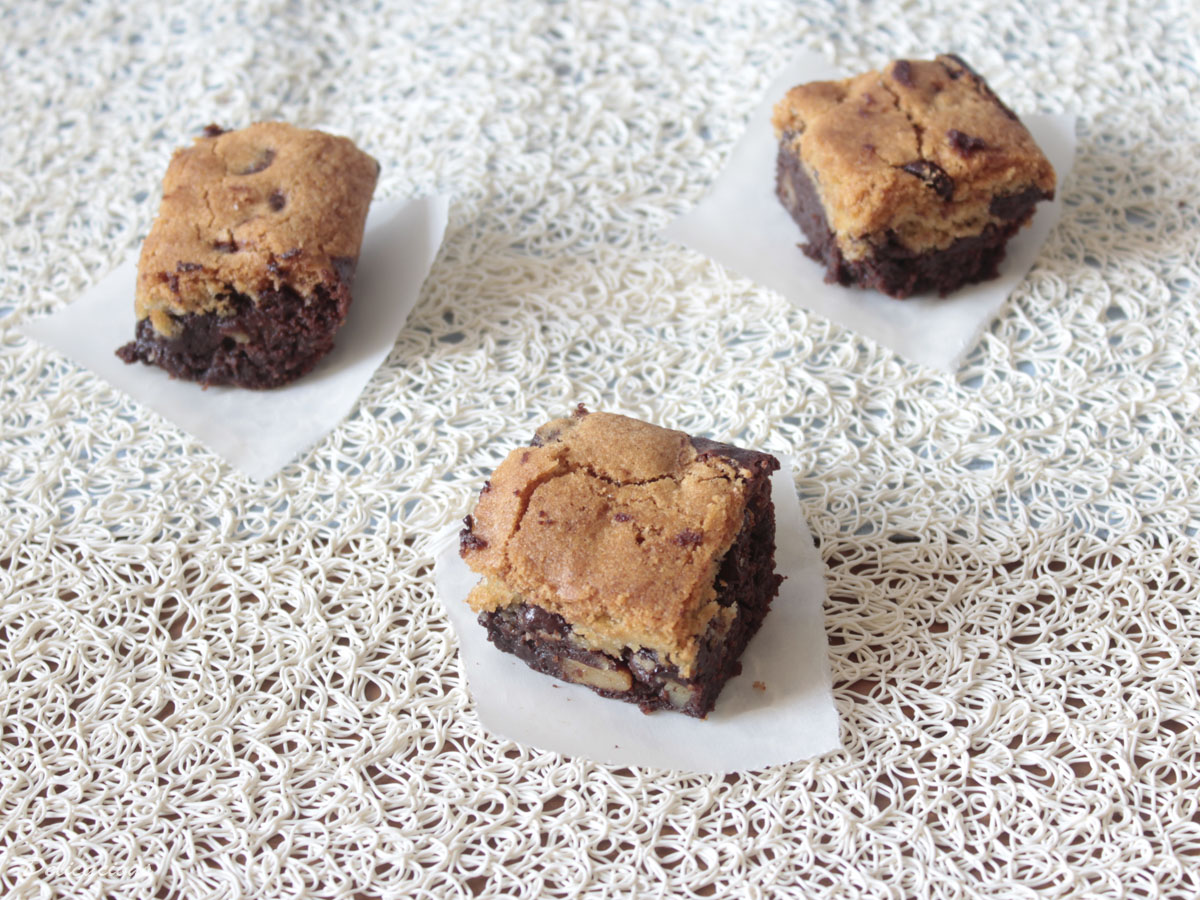 In my humble opinion, there are few desserts that are as charming in their simplicity as brownies. Moist chocolate goodness, in a bar, or a slab, or in a cup, whatever your preference. I used to think that the best brownies were the ones that were oozing chocolate goodness, with bits of nuts in them, the crunch of the nuts contrasting with the soft texture of the brownie. I have since changed my mind about what the best brownies are. The best brownies are the ones I'm about to introduce to you – Brownies topped with Cookie dough, baked to a golden brown perfection. Crisp chocolate chip cookie atop a moist dark chocolate brownie. NOW THAT IS PERFECTION.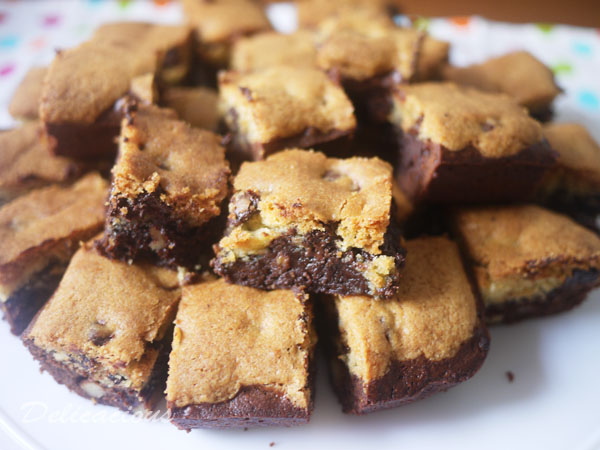 I baked these up for an office tea and they were popular to say the least. Which chocolate lover wouldn't like them? And if you aren't a chocolate lover, I dare say you are missing out on a whole lot. A whole whole lot. Now that you are convinced that you are going to bake these brownies immediately, I have to warn you that they are a little more time-consuming to prepare than regular brownies. The reason is because the brownie batter and the cookie dough needs to be prepared separately and unless you have two mixers, this means washing the beaters and the bowls mid-way. Don't let the extra work stop you though, it is definitely worth it. Definitely. (Dear hubby, if you are reading this, I wouldn't mind another Kitchen-Aid mixing bowl for Christmas).
Cookie Top Brownies
Ingredients
Brownie Batter
6 ounces 52% dark chocolate (I use Callebaut)
3 ounces 70% dark chocolate
8 ounces unsalted butter, cut into pieces
1 cup sugar
4 eggs
½ tsp salt
½ tsp vanilla extract
1 cup plain flour
1 cup walnuts, roughly chopped
Cookie Layer
1¼ cup plain flour
½ tsp baking soda
½ tsp salt
6 ounces unsalted butter, at room temperature
½ cup light brown sugar
⅓ cup granulated sugar
1 egg + 1 yolk
1 tsp vanilla extract
1 cup dark chocolate chips
Instructions
Preheat oven to 190°C and place a rack in the centre of the oven. Coat a 9X13 inch baking pan with non-stick spray, line with baking paper and coat the paper with non-stick spray again.
Brownie
Melt chocolate and butter in a microwave. Zap at 20-30 seconds intervals, stirring occasionally till chocolate and butter melts and combines into a smooth mixture.
Set chocolate mixture aside to cool.
Using a standing mixer fitted with the paddle attachment, beat sugar and eggs on medium high speed for two minutes, until it is thick and creamy.
Beat in salt and vanilla.
Reduce the mixer speed to low and add in the chocolate mixture. Beat for about 1 minute until it is incorporated.
Scrape down the sides of the bowl and add in the flour. Stop mixing once flour is incorporated. Do not overmix.
Fold in walnuts using a spatula.
Pour brownie mixture into the prepared pan and set aside.
Cookie Layer
Sift together flour, salt and baking soda in a large mixing bowl.
Cream butter and sugar on medium high speed in a cleaned bowl of a standing mixer, or using a handheld mixer, for 3 - 5 minutes, until the mixture is light and creamy.
With the mixer speed still on medium high, add in the egg and the yolk, beating for one minute after the addition.
Mix in the vanilla.
Turn mixer speed to low and add in the flour mixture. Stop once the flour is incorporated.
Fold in the chocolate chips.
Using a metal spoon, drop spoonfuls of cookie batter on top of the brownie mixture. Spread it evenly over the batter using a spatula.
Bake for 50 - 55 minutes, until a spatula inserted in the centre comes out clean. if the cookie layer browns too quickly, tent it with foil.
Transfer the pan to cool on a rack.
When brownies are cool to room temperature, carefully invert them onto a cutting board.
Cut into bars of about 2 X 1 inches. A small bar goes a long way.
Notes
Adapted from baking, from my home to yours
This post is shared at these blogs.