After a year long hiatus from this food blog, I'm back!
The hiatus was largely due to the birth of my daughter, who just turned one recently. The demands of coping with a baby plus juggling a full-time job made me put off updating this blog, and alas, I realised recently that it has been a year! Time really flies. I decided that I will try to keep this blog alive with new updates of my food. Readers will probably see more "child-friendly" recipes, no prizes for guessing why. 🙂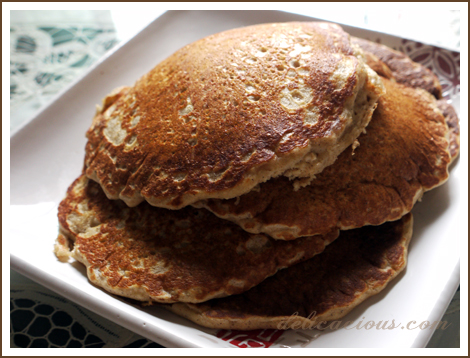 So back to my post on oatmeal pancakes. My daughter dislikes oatmeal, even after I dress it up with bananas and raisins. I discovered recently though, that she gladly eats up these oatmeal pancakes! A joyous discovery indeed, as it means that I can use up my large container of oatmeal. The addition of buttermilk and oatmeal makes the pancakes fluffy and soft, definitely suitable for children. Feel free to dress the pancakes up with bananas or blueberries, whatever you fancy. I serve mine with butter and a small dab of maple syrup.
Oatmeal Pancakes
Makes 6 – 8 pancakes
Ingredients:
3/4 ground oats
1 1/2 cups buttermilk or buttermilk substitute*
3/4 cup all purpose flour
1 1/2 tsp baking powder
3/4 tsp baking soda
1/2 tsp cinnamon
1 egg, beaten
2 tbsp unsalted butter, melted
1 tbsp brown sugar
Method:

Combine oats with 3/4 cup of buttermilk. Allow to stand for 5 minutes.
Sift together flour, baking powder, baking soda and cinnamon in a large bowl.
In a separate bowl, whisk together egg, sugar, oats in buttermilk and remaining buttermilk.
Add wet ingredients to dry ingredients and stir to combine. Do not over-stir.
Heat a lightly greased frying pan or griddle. Cook pancakes in batches, adding approximately 1/3 cup of batter each time.
Cook each pancake till bubbles appear on the surface, approximately 1 min. Flip pancake and cook the other side for another minute or so.
Serve warm with butter and maple syrup.
* I add 1 tbsp of vinegar to measuring cup and top it up to 1 cup with milk. Let it stand for 10 minutes, stir well and there you have it, buttermilk substitute! You can use lemon juice instead of vinegar if you prefer.