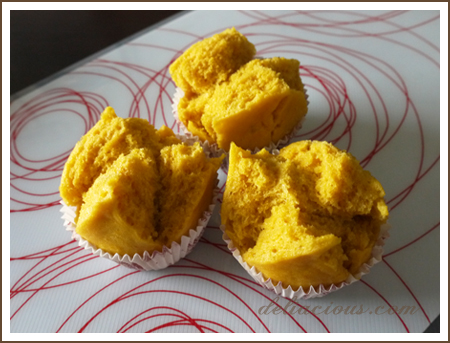 I realised I had some pumpkin left in the fridge today and hence decided to steam it up to make pumpkin huat kuehs for my little girl. Huat Kueh, translated literally, means "prosperous cake". Some people believe that if it rises and breaks open like a smile (as shown in the photo above), you will have good luck. I believe in none of that but that doesn't stop me from making some yummy, oil-free steamed cakes for my little girl. They are slightly more troublesome to make than traditional muffins, but they have a nice soft chewy texture.
Most pumpkin huat kueh recipes you see out there uses coconut milk, because the combination of coconut milk and pumpkin is absolutely aromatic. In order to make this more healthy and child-friendly, I chose to use whole milk instead of coconut milk.
Pumpkin Huat Kueh
Ingredients
Starter dough
50g Hong Kong Flour
50ml water
1 tsp instant yeast
Batter
200g pumpkin, steamed and pureed
100ml whole milk
1 egg
120g brown sugar
320g Hong Kong flour
2 tsp baking powder
Instructions
Mix starter dough ingredients in a bowl and set aside for 30 minutes.
Sift together flour and baking powder and set aside.
In a large mixing bowl, combine pureed pumpkin, milk, eggs and brown sugar.
Add in sifted flour and baking powder and mix well.
Finally, add in proofed starter dough and mix well. The mixture will be sticky.
Set a steamer over boiling water. Fill muffin cups almost to the top with the mixture.
Steam over rapid boiling water for 15 minutes.
Notes
Adapted from http://sakurambokitchen.blogspot.sg/2007/07/huat-kueh-pumpkin-durian-sweet-potato.html
This post is shared at
Saturday Dishes Pumpkin
.