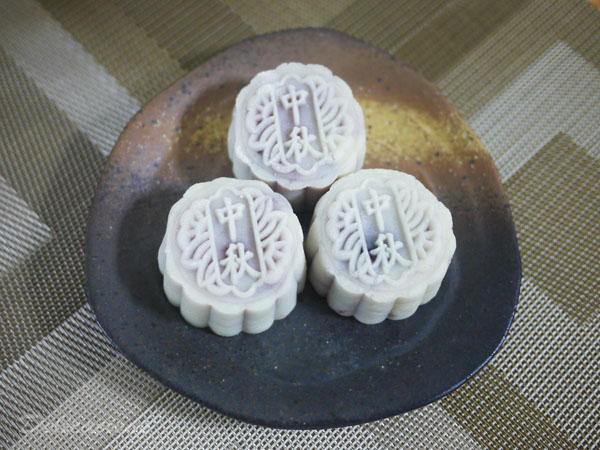 The Mid Autumn Festival was yesterday. Did you celebrate? I did not really celebrate as my little one was down with gastric flu but we had some of these yummy mooncakes at home. Earlier I posted about Walnut Mooncakes and now I'd like to introduce you to one of my personal favourites – Red Wine Berry Snow Skin Mooncakes. The filling comprises of an outer layer of red wine berry paste with a white lotus paste center.
The red wine berry paste is a winner. I first tried making this mooncake two years ago and it was instantly a hit. I have to say however, that I did not make the paste. It is available during the Mid Autumn Festival season at Kwong Cheong Thye. I buy my Kou Fen (cooked glutinous rice flour) from them too. I think they sell one of the better quality ones.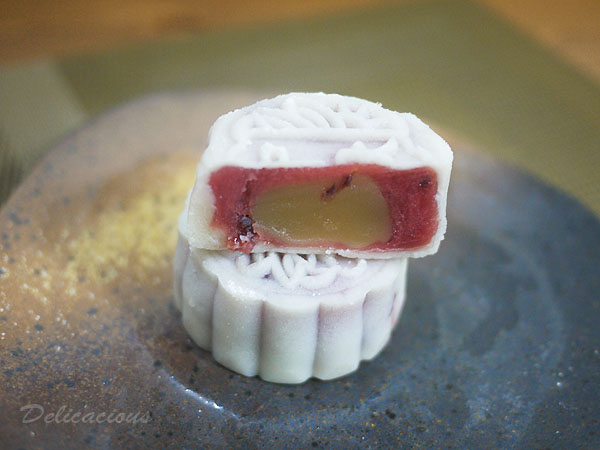 Two years ago, when I first made snow skin mooncakes, I only used Kou Fen. I realised  that though the skin was soft on Day 1, it very quickly hardened. This time round, I used a mix of Kou Fen and Shui Xian Mian and the results are much better. The snow skin stays softer for a longer period of time (about 3 days) and the dough is easy to handle.
Red Wine Berry Snow Skin Mooncakes
Serves:
Makes 20 mini mooncakes
Ingredients
Snow Skin
5 pandan leaves
200 ml water
50g Hong Kong Shui Xian flour (bought from KCT)
125g kou fen (cooked glutinous rice flour)
130g icing sugar
50g shortening
Filling
600g red wine berry filling
240g white lotus paste
Instructions
In a small pot, bring water and pandan leaves to a boil.
Boil leaves and water for about 10 minutes on medium low heat.
Leave to cool and refrigerate.
In a clean dry skillet, fry shui xian flour over medium heat for 10-15 minutes. Set aside to cool.
Scale red wine berry filling at 30g each and shape into balls.
Scale lotus filling at 12g each and shape into balls.
Wrap red wine berry filling around lotus filling. Set aside.
In a large bowl, sift and mix together cooled shui xian flour, kou fen and icing sugar.
Using your fingertips, rub shortening into flour mixture until mixture resembles fine bread crumb.
Make a well in the mixture and pour in the cold pandan water.
Mix to form a dough. Set aside for 30 minutes.
Scale dough at 22-25g each.
Wrap filling into dough and press into snow skin mold dusted with kou fen.
Chill before serving.
*Recipe is for mini mooncakes that are about 65g each.