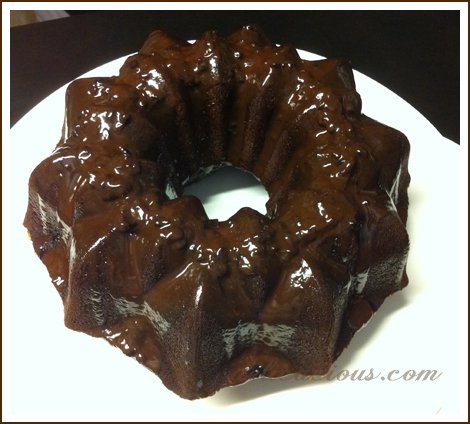 Disclaimer: This cake is NOT suitable for children consumption.
I love bundt pans because they are easy to handle, produce moist cakes and the large bundt pans produce cakes that feed a small crowd! That coupled by the fact that they look pretty without elaborate decorations, and that they are easy to divide and slice up (the patterns serve as a guide for servings), I think I should be baking bundts more. I was given a cheaper bundt pan years ago, but didn't quite fancy it as it tended to stick despite being greased and floured. A year back, I purchased a few Nordicware bundt pans and have been sold ever since.
I baked this last Saturday for my CG mates. Originally, I just wanted to bake a simple chocolate cake but I stumbled upon a recipe that incorporated red wine into the chocolate cake. I thought, why not? The results? A moist and flavourful cake, made more delicious by a double glaze of red wine black berry sauce and milk chocolate ganache. To make the cake slightly more friendly for pregnant and breastfeeding mothers in the CG, I boiled the red wine mixture a little longer. You don't have to, though.
Red Wine Chocolate Cake
Makes 1 large bundt
Adapted from Kiss my Bundt
Ingredients:
For the bundt cake
2 cups all-purpose flour
3/4 cups dutch-processed cocoa powder
1 1/4 tsp baking powder
1 1/4 tsp baking soda
1/2 tsp salt
1 1/2 cups sugar
2 eggs
1 cup whole milk
1/2 cup vegetable oil
1/2 cup water
1/2 cup dry red wine
For the blackberry red wine glaze
4 tbsp seedless blackberry jam
1/3 cup dry red wine
For the chocolate ganache
1/2 cup heavy cream
4 oz milk chocolate or dark chocolate
Method (for bundt cake):
Preheat oven to 175°C
Sift flour, cocoa powder, baking soda, baking powder and salt in a large bowl. Mix in sugar and set aside.
Using a standing mixer, combine eggs, milk and oil. Beat on medium speed for about 1 minute.
Turn the mixer speed to low and add in the dry ingredients, half a cup at a time.
Meanwhile, combine water and wine and bring to a boil
When batter is combined, slowly add in water and wine mixture. The batter will be quite thin.
Pour into 10-C bundt pan that has been greased and floured and bake for about 45 minutes or until a cake tester comes out clean.
Invert onto cooling rack and allow to cool for an hour before frosting.
Method (for blackberry red wine glaze)
Whisk red wine and blackberry jam in a small saucepan over medium heat
Bring mixture to a boil and let it boil for 1 – 2 minutes (the glaze will thicken)
Remove from heat and let it cool for 5 minutes before spooning it over cooled bundt cake
Method (for chocolate ganache)
In a small saucepan, bring cream to a near boil (hot but not boiling)
Pour hot cream over chocolate in a large bowl and whisk till smooth
Spoon over the blackberry red wine glaze on the cooled bundt cake