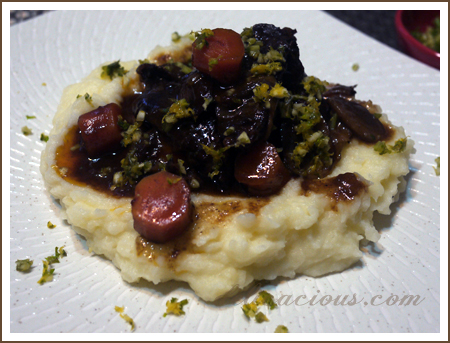 After a super long hiatus from Daring Cooks, (now, when was my last challenge?), I've decided to embark on this monthly challenge again. The past year has been crazy, and committing to a monthly challenge has been rather impossible. Now that the babe is 1 year old, it's time for me to return to my monthly cooking/baking challenge.
The March, 2012 Daring Cooks' Challenge was hosted by Carol, a/k/a Poisonive – and she challenged us all to learn the art of Braising! Carol focused on Michael Ruhlman's technique and shared with us some of his expertise from his book "Ruhlman's Twenty". I wanted to cook braised beef short ribs initially but couldn't find short ribs. Seeing that I had 1kg of old beef sitting in the freezer, I decided to use that up instead. For the braising sauce, I used a combination of 2 cups of red wine (that was all I had left in the bottle) and 1 cup of beef stock. After simmering in the oven for 4 hours, the results were delicious. The beef was absolutely tender and chock full of flavour. I served it over fluffy potato mash and everyone had clean plates at the end of dinner.The picture above does not do justice to the dish – if only I can figure out how to take better pictures using indoor lighting!
I learnt something new in this challenge – gremolata. See that greenish yellow thing that's sprinkled on top of the braised beef? That's gremolata, a combination of parsley, minced garlic and lemon zest. It was an amazing addition. It added much freshness to the braise, something I've never quite tasted before.